Technologien und Skills
Mehr Technologien anzeigen
Deine Rolle im Team
Take ownership of our AWS infrastructure and all underlying AWS services we are running and operating
Focus on topics like cloud operations, service monitoring and process automation
Create and maintain dashboards and appropriate alarms and notifications
Collaborate with other Engineers and DevOps to run, operate and monitor our complete system and backend services
Continue to improve our infrastructure-as-code setup based on Kubernetes, Helm and Crossplane
Focus on security topics and work on our AWS IAM roles, policies, AWS WAF, CloudTrail setup, encryption standards, etc.
Unsere Erwartungen an dich
Qualifikationen
Proficiency in managing AWS infrastructure and services & Kubernetes
A passion for Kubernetes, Helm, Crossplane & Gitlab
Erfahrung
Significant experience in Software Engineering & IT operations, infrastructure and security
Hands-on experience with AWS VPC, AWS EC2, AWS ECS, AWS Lambda, AWS SNS/SQS, AWS RDS, Aurora, PostgreSQL, AWS DynamoDB, etc.
First experiences creating operation dashboards including monitoring and alarming
Das ist dein Arbeitgeber
hi.health offers people with private health insurance convenient and safe access to health care billing via app or web. Users can easily submit their invoices digitally and hi.health takes care of the further processing, billing and customer service providing a seamless user experience. With the integrated "library" users receive a transparent overview of relevant digital health products and services, that are (partially) covered by their insurance. hi.health operates at the intersection of digital health, fintech and insurtech. While each of these rapidly growing markets are already exciting in themselves, their combination in one product is unique.
Branche
Internet, IT, Telekom
Gesundheitswesen, Soziales
Banken, Finanz, Versicherung
Gründungsjahr
2019
Unternehmensgröße
1-49 Mitarbeiter
Benefits
Erfahre mehr zum DevTeam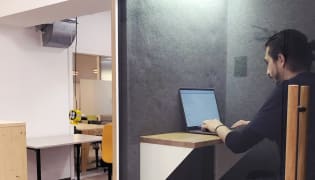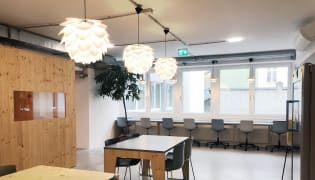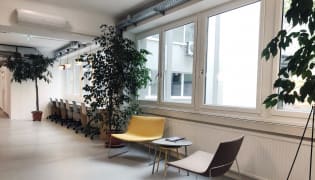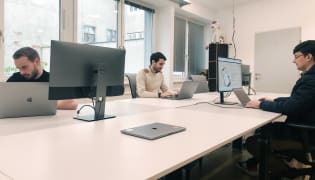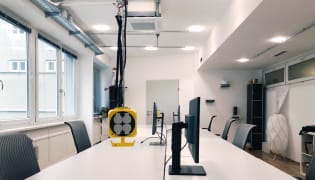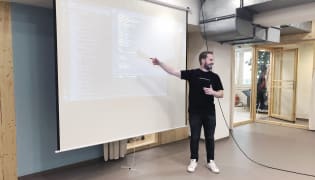 Arbeitsgerät
Laptop, Zusatz Monitor
Work Enviroment
Open Space
Separate Räume
Flexible Arbeitszeiten
Keine Kleiderordnung
Home Office
Klimaanlage
Musik am Arbeitsplatz
Choose your own device
Technology
So coden wir
Coding Kultur
Code Reviews
Pair Programming
Style Guide
Automatisierte Tests
Continuous Integration
Mob Programming
Code-Metriken
Open Source Contribution
Team
We work in cross-functional product development teams and use our own type of an agile development process with typical characteristics of Scrumban. We constantly try to improve our process and from time to time we also break out of it to work in design sprints, organize "focus days" and hackathons. We're all about keeping a balance between flexibility and maintaining a settled and clear process, flow and cadence.
Team Sprachen
Englisch
Team Verteilung
International, Verteilt
Teamgröße
7-19 Mitarbeiter
Entwicklungsprozess
Scrum, Kanban, Scrumban
We constantly develop and try to improve our own kind of Scrumban. Currently we have set up a 1-week cadence and bi-weekly review our progress and process retrospectively.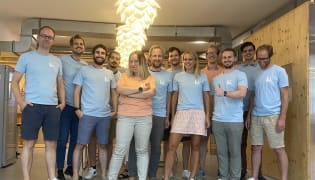 Entscheidungen
Unsere Werte
Simple
Playful
Human
Game-changing
Karriere
Weiterbildungsmöglichkeiten
🎓 Teilnahme an Fachkonferenzen
🎓 IT-Zertifizierungen
🎓 Teilnahme an Hackathons
🎓 Teilnahme an Meetups
🎓 Zugang zu Online-Kursen
🎓 Eigene Fachbibliothek
🎓 Zeit um neue Technologien zu erlernen
Infos zum Bewerbungsprozess
Wie viele Runden gibt es?
3 Runden.
Wann erfährst du, ob du eingeladen wirst?
Innerhalb einer Woche.
Wie wird das erste Bewerbungsgespräch durchgeführt?
Videointerview
Wer ist beim ersten Bewerbungsgespräch dabei?
Teammitglied
Wie beurteilen wir deine technischen Skills?
Direkt im Gespräch
Derzeit gesuchte Berufe
Weitere Berufe
Ansprechpartner