Technologien und Skills
Deine Rolle im Team
Development of software configuration tools in an agile team
Design, implementation of production and test code, maintenance of the delivered software configuration tools
You work on projects which allow our AUTOSAR basic software to be used in heterogeneous ECUs such that resource consumption regarding memory footprint and CPU load is minimized.
Unsere Erwartungen an dich
Qualifikationen
3 years of professional experience in a similar position
Expertise with Java programming for at least 2 years
Autonomous, analytic, and structured way of working
Ideally, knowledge of object-oriented design, UML, XML and Eclipse
Ideally, know-how of embedded C, C++, SQL and Python
Willingness to learn German
Ausbildung
University degree in computer science or in a similar field
Das ist dein Arbeitgeber
Elektrobit (EB) is an award-winning and visionary global supplier of embedded and connected software for the automotive industry. In 11 countries around the globe we are working toward a world in which mobility causes zero fatalities, produces low emissions, and transforms your commute into quality time. In our collaboration with our customers, such as Audi, BMW, Volkswagen and many more, we live and breathe our passion for automotive software and for the mobility of tomorrow.
Branche
Internet, IT, Telekom
Fahrzeugbau, Zulieferer
Gründungsjahr
1999
Unternehmensgröße
250+ Mitarbeiter
Benefits
💰 Mitarbeiterprämie
💸🚎 Verkehrsmittel-Zuschuss
💵 Bonuszahlungen
🎁 Mitarbeitergeschenke
🛍 Mitarbeitervergünstigungen
🚌 Gute Anbindung
⏸ Bildungskarenz/Auszeit
⏰ Flexible Arbeitszeiten
🏠 Home Office
🧳 Relocation Package
🕺 No Dresscode
🙂 Gesundheitsförderung
🏋🏿‍♂️ Fitness Angebote
🧘‍♀️ Massage, Yoga o. A.
🎳 Team Events
♿️ Barrierefreiheit
💰 Teambudget zur freien Verfügung
🚲 Fahrradabstellplatz
🎮 Gaming Room
⚽️ Tischkicker o. Ä.
👨🏻‍🎓 Paten- & Mentor- Programm
🤫 Ruheräume
🥘 Essenszulage
🥪 Snacks, Süßigkeiten
🍏 Frisches Obst
☕️ Kaffee, Tee o. Ä
Erfahre mehr zum DevTeam
Arbeitsgerät
Laptop, Zusatz Monitor
Work Environment
Separate Räume
Flexible Arbeitszeiten
Keine Kleiderordnung
Home Office
Klimaanlage
Musik am Arbeitsplatz
Stand Desk
Technology
So coden wir
Coding Kultur
Code Reviews
Style Guide
Automatisierte Tests
Continuous Integration
Code-Metriken
Team
We are working in teams of 8 to 15 developers, who are further assigned to agile teams. The teams are responsible for the full software life-cycle: Requirements, design, source code, tests, release, maintenance, costumer support. Each developer takes on further tasks including reviews. Over time you can develop your skills to become an expert in your technological field. Product Manager, Product Owner, Scrum Master and Architects are closely involved in the development. For customer support, end-to-end testing, continuous integration and build environment we have defined specialized teams.
Team Sprachen
Deutsch Englisch
Team Verteilung
International, Nicht Verteilt
Teamgröße
20+ Mitarbeiter
Entwicklungsprozess
Scrum, Kanban, Scaled Agile Framework, Test Driven Development, V.Modell
We are working with an agile scrum framework with bi-weekly sprints. Each 4 weeks we have internal releases and quality checks. External releases are setup every 3 months. We use JIRA to organize our work and collaboration. In addition, we utilize a virtual scrum board and different JIRA dashboards in order to visualize open tasks and their advancement. Our coders closely work together with our testers and reviewers, whereas the roles rotate on a regular basis to ensure that every person in the team can work in every role. In our scrum meetings, which we plan on a regular basis, we discuss the current status of our projects and its advancement, as well as solve problems.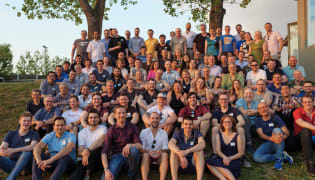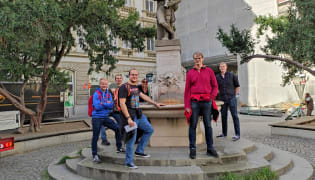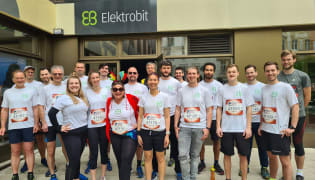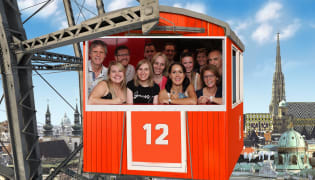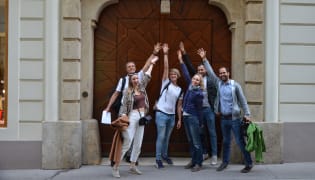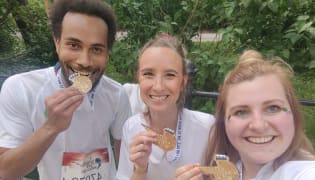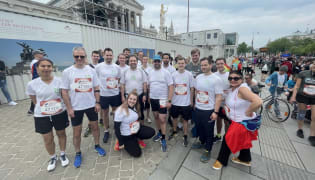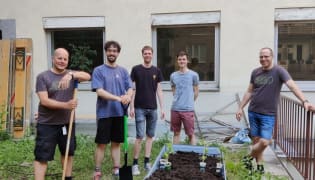 Entscheidungen
Architektur
Team, Architekt, Senior Developer
Technologie
Teamleiter, Architekt, Kunden
Konventionen
Team, Architekt, Developer, Senior Developer
Unsere Werte
Trust: Our basis is mutual trust
For one another: We focus on what's best for all
Freedom to act: We are always open to new ideas
Passion to win: We have a passion to create visions for the future
Excellence with agility: We encourage lifelong learning and growth
Karriere
Perspektiven
Grow with us!

We value your professional and personal development and advancement as much as you do!
Therefore, we offer different career paths depending on your interest and the task area, you are working in. We support your development whether you choose the path towards the expert level, people or project management. On the one hand we offer you internal and external trainings with a wide variety of topics including hard and soft skills. On the other hand our senior software engineers are happy to assist your learning and support your career path.
Weiterbildungsmöglichkeiten
🎓 Teilnahme an Fachkonferenzen
🎓 IT-Zertifizierungen
🎓 Zugang zu Online-Kursen
🎓 Inhouse-Trainings
🎓 Eigene Fachbibliothek
🎓 Coding Dojos
🎓 Zeit um neue Technologien zu erlernen
Infos zum Bewerbungsprozess
Wie viele Runden gibt es?
3 Runden
Wann erfährst du, ob du eingeladen wirst?
Innerhalb einer Woche
Wie wird das erste Bewerbungsgespräch durchgeführt?
Videointerview oder Persönlich vor Ort
Wer ist beim ersten Bewerbungsgespräch dabei?
HR-Abteilung, Fachabteilung
Wie beurteilen wir deine technischen Skills?
Fachliche Arbeitsaufgabe, Online-Test, Live-Coding, Direkt im Gespräch
Derzeit gesuchte Berufe
Weitere Berufe
Ansprechpartner