Back End Software Engineer
Technologien und Skills
Deine Rolle im Team
You participate in the entire application development lifecycle, focusing on developing high quality backend software that supports web front-ends
Write clean code to develop functional and scalable web applications and APIs
Build and operate complex software systems that are understandable, testable and maintainable
With your willingness to learn and staying up to date with emerging technologies you are interested in working in an extraordinary, interdisciplinary team on projects that push the boundaries of industrial AI and tackle problems in the industrial sector not yet solved
You have the knowledge to work on your own projects, bring your ideas and take on responsibility for the outcome
Aufgaben Verteilung
Unsere Erwartungen an dich
Erfahrung
You are enthusiastic about solving challenging problems and are familiar with at least one programming language like Java, Kotlin, C++, C#
You feel comfortable with relational databases (e.g. PostgreSQL), know how to connect external services and have a good understanding of an agile development process (SCRUM, CI/CD)
As an open, analytical and problem-solving personality, you are actively involved in the team and would like to make a significant contribution to the success story of craftworks
Ausbildung
You finished your BSc/MSc/PhD in a related field, e.g. Computer Science with at least one year professional experience in a Software Engineering environment
Das ist dein Arbeitgeber
craftworks ist ein Software und Artificial Intelligence Unternehmen aus Wien. Wir entwickeln individuelle Lösungen in den Bereichen Predictive Maintenance/Quality, Big Data, Data Analytics und mehr. Zu unseren Kunden zählen namhafte internationale Industrieunternehmen und Automobilkonzerne.
Branche
Internet, IT, Telekom
Gründungsjahr
2014
Unternehmensgröße
1-49 Mitarbeiter
Benefits
👴🏻 Betr. Altersvorsorge
🎁 Mitarbeitergeschenke
💻 Notebook zur Privatnutzung
⏰ Flexible Arbeitszeiten
🚌 Gute Anbindung
🏠 Home Office
🕺 No Dresscode
💰 Teambudget zur freien Verfügung
🚲 Fahrradabstellplatz
⚽️ Tischkicker o. Ä.
👨🏻‍🎓 Paten- & Mentor- Programm
🥘 Essenszulage
🥪 Snacks, Süßigkeiten
☕️ Kaffee, Tee o. Ä
🍏 Frisches Obst
Erfahre mehr zum DevTeam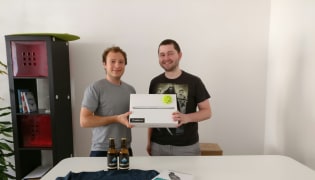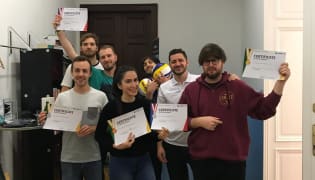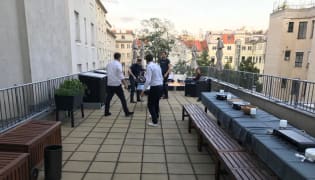 Arbeitsgerät
Zusatz Monitor, Laptop
Work Environment
Separate Räume
Flexible Arbeitszeiten
Keine Kleiderordnung
Home Office
Klimaanlage
Musik am Arbeitsplatz
Stand Desk
Choose your own device
Technology
So coden wir
Coding Kultur
Code Reviews
Style Guide
Automatisierte Tests
Continuous Integration
Team
Bei craftworks legen wir großen Wert auf agile Entwicklung und bedienen uns dazu der "SCRUM" Methode, in der Projekte in einem interdisziplinären Team in Sprints umgesetzt werden. Eine vorausschauende Ressourcenplanung ist uns dabei wichtig.
Jedes Projekt hat einen Product Owner/DevLead. Je nach Art des Projekts arbeiten Backend-, Frontend-Entwickler, UX/UI Designer, Data Scientists und/oder Data Engineers in Projekt-Teams zusammen.
Das Teilen von Know-How und Erfahrung spielt eine wichtige Rolle, insofern gibt es zahlreiche Initiativen innerhalb des Unternehmens neue Erkenntnisse aus Projekten untereinander zu teilen.
Am craftworks Day, der alle paar Wochen stattfindet, arbeitet das Team an eigenen und selbst gewählten Projekten zusammen.

Team Sprachen
Deutsch Englisch
Team Verteilung
National, Nicht Verteilt
Teamgröße
7-19 Mitarbeiter
Entwicklungsprozess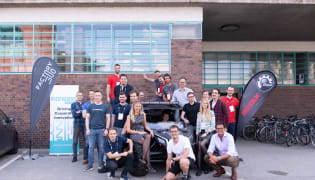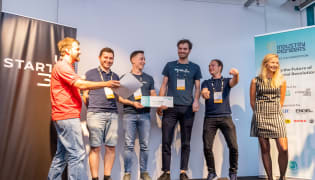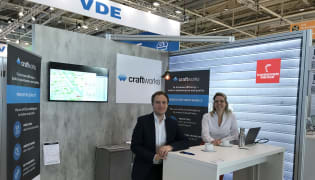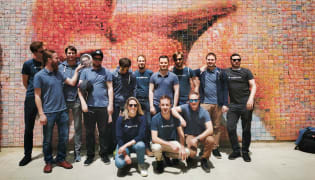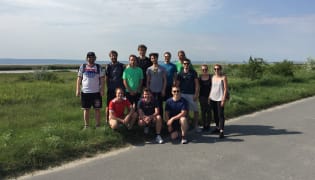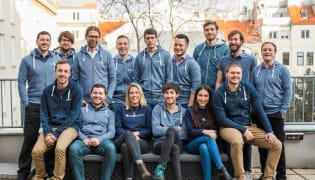 Entscheidungen
Unsere Werte
INNOVATION - Acting with courage, challenging the status quo
LIFELONG LEARNING - Progress. Try new things.
TEAM SPIRIT & RESPECT - We work together as one team
OPEN - Straightforward and open-minded
FOCUS - Strive for Perfection with a clear goal in mind
QUALITY - We provide high-value products and services that we stand behind
Karriere
Infos zum Bewerbungsprozess
Wie viele Runden gibt es?
2 Runden
Wann erfährst du, ob du eingeladen wirst?
Innerhalb einer Woche
Derzeit gesuchte Berufe
Weitere Berufe
Ansprechpartner