Principal Product Manager Microservice
Deine Rolle im Team
Focused on the latest and greatest improvements of our Apps and Microservices solution, you understand the observability and APM market and competitive dynamics and drive our competitive positioning.
By applying modern concepts like "working backwards" and "PR FAQs" you define and carve out the value of upcoming releases together with your peers and create compelling narratives and communicate our unique value to target personas.
You are a member of the solution leadership team and work with product management, marketing and sales as well es internal and external users, customers and analysts to ensure impactful product and capability launches and accelerate growth.
As a Principal Product Manager you are a leader and live, support and develop the Dynatrace values and culture, inspiring and empowering through mentorship and coaching.
Unsere Erwartungen an dich
Qualifikationen
You have a strong technical foundation and deep knowledge in the field of observability and/or APM.
You translated technical solutions into value focused messages – simple, clear and with a wow factor to fascinate and thrill potential customers.
You have good analytical and communications skills and drove initiatives in dynamic work environments.
Erfahrung
You have more than 5 years of experience in product management, Go-To-Market or in product marketing for a product for IT teams in large enterprises.
You have experience in market and competitive analysis and positioning, especially in the observability space.
Das ist dein Arbeitgeber
We are a passionate and open-minded group of software enthusiasts, and together, we are global market leader in software intelligence. On the way to the autonomous, self-healing, and self-protecting cloud, Dynatrace supports the largest companies in the world with AI-driven, answer-based automation to create perfect digital solutions. We have made it our mission that millions of people have excellent user experiences in the age of digitalization: when banking, traveling, shopping, working on the go, or in the health sector. This is made possible through a unique combination of observability, automation, and AI—all compacted into one cloud-based software intelligence platform.
Branche
Internet, IT, Telekom
Gründungsjahr
2005
Unternehmensgröße
250+ Mitarbeiter
Benefits
🍰 Mitarbeiterbeteiligung
💰 Mitarbeiterprämie
💸🚎 Verkehrsmittel-Zuschuss
💵 Bonuszahlungen
🎁 Mitarbeitergeschenke
👷‍♂️ Zusatzversicherung
🛍 Mitarbeitervergünstigungen
💻 Notebook zur Privatnutzung
🚌 Gute Anbindung
⏸ Bildungskarenz/Auszeit
⏰ Flexible Arbeitszeiten
🏠 Home Office
🙅‍♂️ No All-In-Verträge
🅿️ Mitarbeiterparkplatz
🧳 Relocation Package
🕺 No Dresscode
😇 Zeit für ehrenamtliche Tätigkeit
🙂 Gesundheitsförderung
🏋🏿‍♂️ Fitness Angebote
🧘‍♀️ Massage, Yoga o. A.
🎳 Team Events
♿️ Barrierefreiheit
💰 Teambudget zur freien Verfügung
🚲 Fahrradabstellplatz
🧠 Psychische Gesundheitsv.
🎮 Gaming Room
⚽️ Tischkicker o. Ä.
🤫 Ruheräume
🍽 Kantine/Betriebsrestaurant
🥘 Essenszulage
🥪 Snacks, Süßigkeiten
🍏 Frisches Obst
☕️ Kaffee, Tee o. Ä
Erfahre mehr zum DevTeam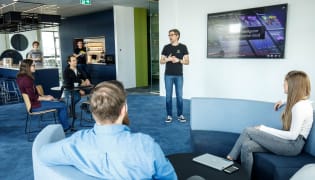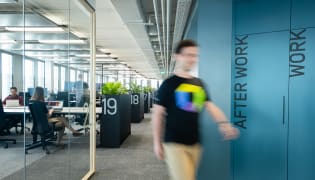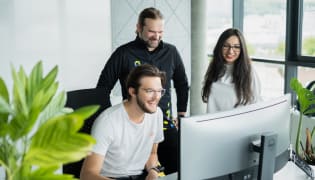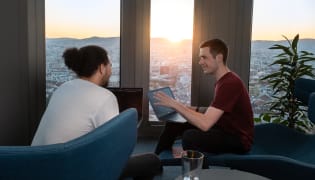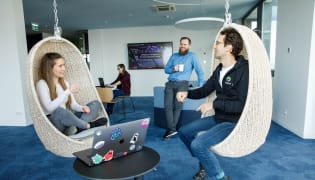 Arbeitsgerät
Laptop, Zusatz Monitor
Work Environment
Open Space
Separate Räume
Flexible Arbeitszeiten
Keine Kleiderordnung
Home Office
Klimaanlage
Musik am Arbeitsplatz
Stand Desk
Choose your own device
Technology
So coden wir
Coding Kultur
Code Reviews
Pair Programming
Style Guide
Continuous Integration
Code-Metriken
Team
The heart of our Dev team beats in Europe. Many of us are located in Austria, where Dynatrace was founded. We are organized in over 100 teams in 8 engineering locations, or R&D Labs, as we call our fabulous offices. Overall, we are a very international, colorful community of people.
With Dynatrace, it's all about the value we deliver to ourselves and to our customers. The basic ingredient for this is minimum red tape and maximum autonomy. This means each team is fully self-managed and works closely together with the Product Owner and Product Management to deliver value. The teams are either using SCRUM or Kanban to organize their work. As a whole organization, we are working in a highly agile and fully technology-focused environment where everyone speaks the same language. This implies that each team is organized fully cross-functional. All required roles are based within the teams to deliver software of extraordinary quality. That includes product owners, front-end, back-end, and team captains. For additional support the teams can have architects, quality coaches, and security experts join them on request.
We run our software development cycle on an extremely high level of automation, making it tremendously easy for teams to push their changes from concept to production at light speed. We know that teams reach their best performance when they have a chance to work with clear boundaries and interfaces and can decide as autonomously as possible how to reach their goals. Therefore, we have defined a clear autonomy principle that guides each person in our organization through autonomous decision-making.
Team Sprachen
Deutsch Englisch
Team Verteilung
International, Verteilt
Teamgröße
20+ Mitarbeiter
Entwicklungsprozess
Kanban, Scrum
Most teams use Scrum, some also Scrumban or Kanban. Due to the size of the development department, there is also a cross-team and scalable Scrum process model, similar to SAFe or LESS. Dynatrace was an Agile company from the start, but once we started growing, the need for a scaled Agile framework also grew. We did not want to change the successful fundamentals of our organization. Many elements have already been incorporated quite well: like a two-week deployment rhythm, agile development teams and their mindsets or some specific roles in the teams. The idea was to use these elements and build missing components on top of it. You can read up on this journey towards our scaled agile interface here:
https://medium.com/dynatrace-engineering/how-dynatrace-does-scaled-agile-part-1-choosing-the-right-framework-1250c03401d1
In general, we have two-week sprints with sprint reviews and planning, daily scrums, retrospectives and backlog refinements. The system is continuously built and deployed. Millions of automated tests run on a daily basis, ensuring product quality.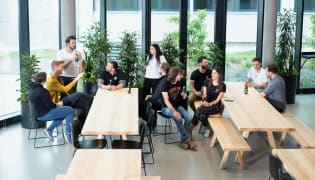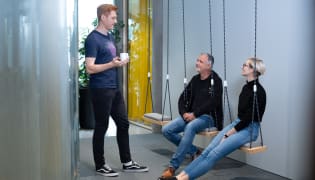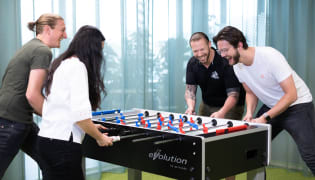 Entscheidungen
Architektur
Teamleiter, Team, Architekt, Senior Developer
Technologie
Teamleiter, Team, Architekt, Developer, Senior Developer, CTO
Konventionen
Teamleiter, Team, Architekt, Developer, Senior Developer, CTO
Unsere Werte
Our mission is to generate real value, not 100s of lines of code.
We believe in a culture of innovation, collaboration, and autonomy.
We foster a flexible, entrepreneurial mindset as the basis for an outstanding product.
We are approachable, confident, empowering, and passionate.
Kollegen
Magdalena Radinger
Lead Data Scientist
Warum hast du dich für dieses Team entschieden?
There are many reasons why I joined this team. But one of the most important for me is that the team is diverse in many ways (e.g. backgrounds, gender, experience). This enables everyone to contribute their strengths but also to learn from each other. Another aspect that is important to me are the projects we work on. The tasks are challenging and sometimes require you to leave your comfort zone. This is something that makes working at Dynatrace very exciting for me.
Worum geht´s in deinem Job?
My job is refreshingly diverse. On the one hand, I support my team and strive to create a stimulating work environment in which everyone can develop and grow. On the other hand, I contribute my technical know-how by actively working on tickets: developing new algorithms, reviewing pull requests, etc.
Was gefällt dir besonders an deinem Job?
Without a doubt: the sheer variety. The combination of organizational and technical tasks is extremely exciting. The collaboration within the team and with fellow leads is super productive, and we all keep learning from and with each other. The breakdown into technical and organizational leads allows everyone to focus on their strengths and grow simultaneously.
Raphael Wigoutschnigg
Software Engineer
Warum hast du dich für dieses Team entschieden?
The decision to join Dynatrace was mainly because of the good things I heard about the company. Due to the many opportunities for personal growth, the outstanding team structure, and the highly skilled colleagues, the decision turned out to be a very good one. What I like about beeing a Software Engineer at Dynatrace is that it's exciting and fulfilling, and that I have the opportunity to contribute my own ideas.
Worum geht´s in deinem Job?
Together with my team, I am responsible for a part of the software product Dynatrace (same name as the company ). We extend and maintain this part and coordinate with many other teams. We are driving autonomous development and innovation of the product.
Was gefällt dir besonders an deinem Job?
Working together with a great team and achieving things together.
Jan Peer Stöcklmair
Software Engineer
Warum hast du dich für dieses Team entschieden?
In the Dynatrace HUB team, we face different challenges on how we deliver extensions to all our customers. These challenges are a good way to grow and learn new things. The special thing about this team is that we are comparably small group, where ideas can be discussed and each and every idea is taken into consideration to improve the result. Still we are in contact with other teams, as we use components of others, which is a great touchpoint to share the knowledge and to stay up to date within the company.
Worum geht´s in deinem Job?
My role is split into DevOps and frontend engineering. On the DevOps side I take care of the deployment of the services including Kubernetes, terraform (AWS) and Jenkins as well as the way of how we distribute extensions to all customers. On the frontend part I provide the internal tooling, so extensions and technologies we offer can be maintained. In our team we ensure that the code is reviewed before it goes into our main branch, this helps us to keep the quality of the code high. Of course, knowledge sharing and tackling challenges as a team is a big part as well.
Was gefällt dir besonders an deinem Job?
I like to improve myself, teach others and get inspired by people. This is what Dynatrace offers, and this is why I like my job.
Karriere
Perspektiven
We look for people who would strive in the environment we have at Dynatrace: Passionate and creative minds with a strong willingness to learn, grow, and adapt, and to solve not yet solved complex problems by pushing boundaries. You can, and you will have real impact and the freedom to grow on your individual journey with Dynatrace.
Weiterbildungsmöglichkeiten
🎓 IT-Zertifizierungen
🎓 Zeit für eigene IT bezogene Projekte
🎓 Teilnahme an Fachkonferenzen
🎓 Zeit um neue Technologien zu erlernen
🎓 Teilnahme an Meetups
🎓 Eigene Fachbibliothek
🎓 Zugang zu Online-Kursen
🎓 Coding Dojos
🎓 Teilnahme an Hackathons
🎓 Inhouse-Trainings
Infos zum Bewerbungsprozess
Wie viele Runden gibt es?
3 Runden.
Wann erfährst du, ob du eingeladen wirst?
Innerhalb von zwei Wochen
Wie wird das erste Bewerbungsgespräch durchgeführt?
Persönlich vor Ort oder Videointerview
Wer ist beim ersten Bewerbungsgespräch dabei?
Fachabteilung
Wie beurteilen wir deine technischen Skills?
Direkt im Gespräch, Whiteboard Interview
Derzeit gesuchte Berufe
Weitere Berufe
Ansprechpartner