Senior Front End Developer
Technologien und Skills

Angular
Profil

TypeScript
Profil
Deine Rolle im Team
Collaborate with our Web Dev Team members to design, implement and test new features for the prewave.com platform
Proactively asking for help in a structured and clear way whenever uncertain
Unsere Erwartungen an dich
Qualifikationen
Good sense of UI/UX Design and willingness to improve the look-and-feel or our app
Positive and solution-oriented mindset
Driven by curiosity and eager to learn new things
Able to communicate effective in English and/or German language
Valid work permit for Austria
Erfahrung
Experience coding with Angular / Typescript either through university, personal projects or previous work experience
Das ist dein Arbeitgeber
Prewave is an AI startup building a global supply chain intelligence platform. Our technology analyzes social & news media in 50+ languages and detects and predicts disruption and sustainability risks. It is our goal to make local risks globally visible in order to make tomorrow's supply chains more transparent, resilient and sustainable.
Branche
Internet, IT, Telekom
Wissenschaft, Forschung
Gründungsjahr
2017
Unternehmensgröße
1-49 Mitarbeiter
Benefits
Erfahre mehr zum DevTeam
Arbeitsgerät
Laptop, Zusatz Monitor
Work Enviroment
Separate Räume
Flexible Arbeitszeiten
Keine Kleiderordnung
Home Office
Klimaanlage
Musik am Arbeitsplatz
Choose your own device
Technology
So coden wir
Coding Kultur
Code Reviews
Style Guide
Automatisierte Tests
Team
We have two tech teams. The Network Team, building our web platform and the AI Team, building the algorithm that detects and predicts risks that are streamed into the Network.
Team Sprachen
Deutsch Englisch
Team Verteilung
International, Verteilt
Teamgröße
7-19 Mitarbeiter
Entwicklungsprozess
Scrum
The network (web-dev) team applies a full scrum process, with 2-3 week sprints, grooming etc. The intelligence (data science) team follows a process driven by research goals, experiments etc.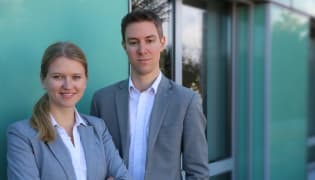 Entscheidungen
Unsere Werte
Open Communication
Trust & Respect
Flexibility
Independence
Karriere
Perspektiven
We are a fast growing startup this means new roles, tasks, projects are arising over time which gives everyone the chance to grow into a role that is a good match for their skillset & interest.
Weiterbildungsmöglichkeiten
🎓 Zeit um neue Technologien zu erlernen
Infos zum Bewerbungsprozess
Wie viele Runden gibt es?
3 Runden.
Wann erfährst du, ob du eingeladen wirst?
Innerhalb einer Woche.
Wie wird das erste Bewerbungsgespräch durchgeführt?
Videointerview
Wer ist beim ersten Bewerbungsgespräch dabei?
Geschäftsführung
Wie beurteilen wir deine technischen Skills?
Whiteboard Interview, Fachliche Arbeitsaufgabe, Direkt im Gespräch
Derzeit gesuchte Berufe
Weitere Berufe
Ansprechpartner