Technologien und Skills
Deine Rolle im Team
Implement new features on web based frontend applications
Work closely with project managers, UX designers, other developers, and sales and marketing professionals
Analyze user requirements
Create and maintain software documentation
Maintain and enhance existing web applications
Test final UI/UX in a structured way before release (with focus to automation)
Aufgaben Verteilung
Unsere Erwartungen an dich
Qualifikationen
Knowledge and interest in Javascript good (and bad) practices
Analytical and creative problem-solving skills
Professional written and spoken English skills
Erfahrung
At least 2+ years of relevant experience developing frontends of web based applications with TypeScript and Angular
Proven and demonstrable experience designing and implementing (web) frontend based applications
Experience with CI / CD pipelines
Experience with SaaS products, developer tools and data-driven visualization is really appreciated
Familiarity with UI toolkits and frameworks
Familiarity with Blockchain technology is preferable, willingness to dive into it a must
Ausbildung
Bachelor's degree (FH, University) in physics, computer science, mathematics, material science, a related technical field of study or equivalent experience
Das ist dein Arbeitgeber
We are a small award winning team based in Vienna (best quality of life) rated as one of the top 5 emerging steel startups in the world. While digitizing a variety of different materials, we are putting together best of breed Blockchain technology in collaboration with the industry leader Riddle&Code and 150 years of steel industry experience of AluKönigStahl to digitize materials from raw state to their final product destination. This is how companies can replace mandatory quality certificates with traceable and tamper-proof digital records to use for smart manufacturing and to assess CO₂ emissions, all while being more competitive.
Branche
Industrie, Produktion
Luft-, Raumfahrt
Maschinenbau, Anlagenbau
Gründungsjahr
2019
Unternehmensgröße
1-49 Mitarbeiter
Benefits
🎁 Mitarbeitergeschenke
💻 Notebook zur Privatnutzung
🚌 Gute Anbindung
⏰ Flexible Arbeitszeiten
🏠 Home Office
🕺 No Dresscode
🎳 Team Events
♿️ Barrierefreiheit
🚲 Fahrradabstellplatz
🤫 Ruheräume
☕️ Kaffee, Tee o. Ä
Erfahre mehr zum DevTeam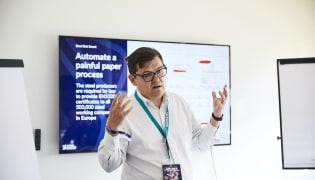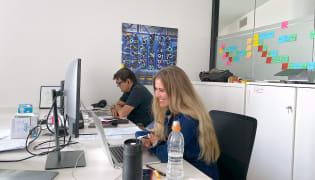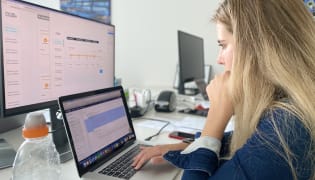 Arbeitsgerät
Laptop, Zusatz Monitor
Work Environment
Open Space
Separate Räume
Flexible Arbeitszeiten
Keine Kleiderordnung
Home Office
Klimaanlage
Musik am Arbeitsplatz
Choose your own device
Technology
So coden wir
Coding Kultur
Code Reviews
Pair Programming
Automatisierte Tests
Continuous Integration
Open Source Contribution
Team
We are one team. Everybody is contributing their expertise - even legal has to contribute to products in a complex world.
Team Sprachen
Deutsch Englisch
Team Verteilung
National, Nicht Verteilt
Teamgröße
1-6 Mitarbeiter
Entwicklungsprozess
Kanban, Domain-Driven Design
We follow Agile principles, by being involved in business decisions, everyone can deliver his/her opinion on the design and implementation of new features. We promote self organization and our main measurement is the (working) code delivered. The team meets weekly to share global progress and issues, and to define the tasks that should be accomplished.
Entscheidungen
Architektur
Team, Developer, Senior Developer, CTO
Technologie
Developer, Senior Developer
Unsere Werte
Dependable
Team Players
Work Conscientiously
Kollegen
Hannes Stiebitzhofer
Lead Software Developer
Warum hast du dich für dieses Team entschieden?
I am the co-founder of this endeavour with Stefan Grüll, a very experienced manager in the trading of steel. What motivated me was that this is an industry in which you can build products at a very large scale. Secondly, connecting physical products with Blockchain is an absolutely interesting challenge (after working many years in the European power industries, which is software only).
Worum geht´s in deinem Job?
My main challenge is to facilitate communication between many stakeholders - software engineers, material scientists, metal users, Blockchain experts and many more - to build successful products.
Was gefällt dir besonders an deinem Job?
The European industries consider sustainability and especially climate protection not only as an absolute necessity but also an economic opportunity. I am very excited that we - a still very small team - are able to build solutions supporting our customers in seizing these gigantic challenges and opportunities. On a more day to day basis I love imagining new approaches and designs to tricky problems.
Edouard Maleix
Full Stack Developer
Warum hast du dich für dieses Team entschieden?
One obvious reason is because the core skills required matched mine.
But more importantly, I find the concept of S1Seven's product very innovative and meaningful and it also involves innovative and challenging technologies (cryptography, blockchain,decentralized identification,...) so that's a good place to feed my appetite for learning.

Worum geht´s in deinem Job?
As a small team we have the possibility to work on various tasks.

The major part of the time is spent coding:
- improving existing software
- implementing new features
- writing tests
- contributing to open source projects (with focus on the backend).

Another big part is spent on design and organization:
- defining software architecture
- writing specifications
- tasks planning
- participating in UI
- aligning with external dev teams
- aligning with the business requirements and evolutions
Was gefällt dir besonders an deinem Job?
To name a few :
- Being able to contribute to open source projects we benefit from. It is a great way to exchange ideas with people working on similar problems and to learn quite a bit. 
- Being involved in business decisions, it's possible to deliver an opinion and shape how the product should look like. 
- Having the possibility to be self organised on how to deliver work and still have room to learn new technologies and improve my skills.
Karriere
Perspektiven
We are a small team in an early stage company which will grow fast over the next few years to extend our offering in many dimensions. This will create many opportunities to grow into new roles, work on new technologies, become experts or managers, it is up to you to grab it.
Weiterbildungsmöglichkeiten
🎓 Teilnahme an Fachkonferenzen
🎓 Teilnahme an Hackathons
🎓 Teilnahme an Meetups
🎓 Zugang zu Online-Kursen
🎓 Zeit um neue Technologien zu erlernen
Infos zum Bewerbungsprozess
Wie viele Runden gibt es?
3 Runden.
Wann erfährst du, ob du eingeladen wirst?
Innerhalb von zwei Wochen
Wie wird das erste Bewerbungsgespräch durchgeführt?
Videointerview
Wer ist beim ersten Bewerbungsgespräch dabei?
HR-Abteilung, Fachabteilung
Wie beurteilen wir deine technischen Skills?
Pair Programming, Live-Coding, Direkt im Gespräch
Derzeit gesuchte Berufe
Weitere Berufe
Ansprechpartner