Lead Full Stack Developer
Technologien und Skills
Mehr Technologien anzeigen
Deine Rolle im Team
Take ownership for developing and implementing features from start to finish
Ensure that our code base follows the latest technology trends and best practices
Be in charge and control of the code and security
Work very closely with our science department, to develop new boundary breaking methodologies and algorithms
Work on interesting projects using AI / Machine Learning
Appreciation for working with a functional programming language (such as Scala)
Aufgaben Verteilung
Unsere Erwartungen an dich
Qualifikationen
Very good knowledge of Java(Scala) or other JVM based programming languages, SQL (Postgres) and Javascript
Knowledge of scalable web technologies
Independent work with a high degree of autonomy and flexibility
Team player who listens well, communicates clearly and implements projects efficiently
Prototyping of high-level technical specifications
Erfahrung
You have several years of experience as software developer with object-oriented or functional programming languages (ideally Scala or alternatively with any of the following or related languages Java, Kotlin, Haskell, …)
Ausbildung
Completed education in software development (HTL or equivalent)
Das ist dein Arbeitgeber
BehaviorQuant's technology supports bank and investment advisors as well as fund managers and investors in a highly efficient and radically new way. BQ quantifies behavioral investor characteristics and risk preferences based on innovative and science-based technology. For financial and wealth advisory BQ delivers a quality of client relationship that combines the best of both worlds: a personal, trusting relationship and automated, science-based insights and recommendations. Institutional investors benefit from BehaviorQuant through systematic decision support in the evaluation and selection of fund managers. Fund managers and asset managers can clearly identify their own "behavioral alpha", recognize unconscious biases, and optimize their decision-making with highly specific and actionable strategies.
Branche
Banken, Finanz, Versicherung
Internet, IT, Telekom
Gründungsjahr
2018
Unternehmensgröße
1-49 Mitarbeiter
Benefits
Erfahre mehr zum DevTeam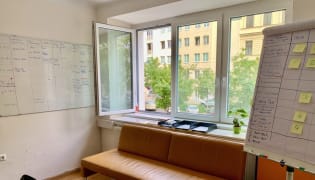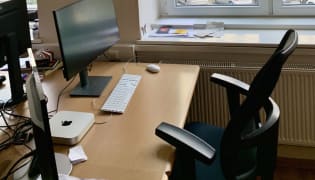 Arbeitsgerät
Laptop, Zusatz Monitor
Work Enviroment
Flexible Arbeitszeiten
Keine Kleiderordnung
Home Office
Technology
So coden wir
Coding Kultur
Automatisierte Tests
Code-Metriken
Team
At the moment the development team consists of two developers and one product manager - forming a cross-functional team - which is working very tightly with our science department and advisors from Harvard, Standford and Cambridge, to develop new boundary breaking methodologies and algorithms to quantify human behavior. Currently we follow a very lean Scrum process with bi-weekly sprints, the daily work usually consists of Front End / Back End and occasionally DevOps development.
Team Sprachen
Deutsch Englisch
Team Verteilung
National, Nicht Verteilt
Teamgröße
1-6 Mitarbeiter
Entwicklungsprozess
Scrum
At the moment we follow a very lean Scrum process, with daily StandUp-Meetings and bi-weekly sprints.
Entscheidungen
Unsere Werte
Mutual trust - Trusting in each other to do the right thing
Participative leadership - Ideas are exchanged freely, and discussion is encouraged
Effective decision-making - Using a blend of rational and intuitive decision making methods
Kollegen
Martin Mayerhofer
Lead Software Developer
Warum hast du dich für dieses Team entschieden?
While I was looking for a new opportunity, I came across BehaviorQuant and it immediately caught my attention and interest, as the domain (behavioral finance) was so wildly different and fascinating. Previously I was working for a global e-commerce company, leading a team which was focused on building a micro-transaction platform for video games, during that time I gathered a lot of experience in what is required to build and operate a highly commercially successful product. For me, it was the right time to shift-gears from working for a large company, to apply my experience and knowledge at a small start-up and help create something novel and groundbreaking for the finance industry.
Worum geht´s in deinem Job?
I'm responsible for ensuring that we have a solid technological foundation and processes to deliver exceptional products to our customers. Moreover, I'm also involved in the day to day development of our products, which ranges from Front-End / Back-End development as well as DevOps.
Was gefällt dir besonders an deinem Job?
Breaking new ground, pioneering and building something, which can radically disrupt the finance industry.
Michael Palkovics
Product Manager
Warum hast du dich für dieses Team entschieden?
I have been approached by one of the CEOs, as he used to be my university professor, and was aware of my double degree in computer science and psychology. Initially, I only supported them in technical questions for AWS and FFG grant applications as a freelancer. The longer I spent working on the topic at hand, the more excited I got about the opportunity of working at something novel. Once the company was officially founded, it was clear to me that I wanted to continue on this endeavor.
Worum geht´s in deinem Job?
While my official title might be Product Manager, my role also involves aspects of requirements engineers and product owners. I help translate ideas from our researchers into tangible requirements for our software engineers to implement and help manage priorities and our schedule.
Was gefällt dir besonders an deinem Job?
The plethora of different tasks, the flexibility of a small team, and the fact that we work on an idea that, for the banking sector, is radically new.
Karriere
Weiterbildungsmöglichkeiten
🎓 Teilnahme an Meetups
🎓 Zeit um neue Technologien zu erlernen
Infos zum Bewerbungsprozess
Wie viele Runden gibt es?
3 Runden.
Wann erfährst du, ob du eingeladen wirst?
Innerhalb von zwei Wochen.
Wie wird das erste Bewerbungsgespräch durchgeführt?
Videointerview oder persönlich vor Ort
Wer ist beim ersten Bewerbungsgespräch dabei?
Fachabteilung, Geschäftsführung
Wie beurteilen wir deine technischen Skills?
Direkt im Gespräch
Derzeit gesuchte Berufe
Weitere Berufe
Ansprechpartner