Dieser Job ist nicht mehr aktiv.
Technologien und Skills
Deine Rolle im Team
As a C# Software Engineer you would be responsible for the maintenance of the .NET services and be challenged to address complex and interesting problems on a daily basis.
Unsere Erwartungen an dich
Qualifikationen
Strong programming skills in C# and .NET (on Linux)
Good understanding of the SOLID principles and the functional programming paradigm
Being familiar with Continuous Integration and Continuous Delivery approaches
Erfahrung
Experience with service oriented architecture
Experience with other technologies and languages
Experience with mongoDB
DevOps skills and AWS experience
Das ist dein Arbeitgeber
Bimspot is an intuitive web-based open BIM SaaS platform to require, validate, and use building information, thus saving time and money in building projects.
Branche
Internet, IT, Telekom
Bau, Immobilien, Haustechnik
Gründungsjahr
2018
Unternehmensgröße
1-49 Mitarbeiter
Benefits
💸🚎 Verkehrsmittel-Zuschuss
💻 Notebook zur Privatnutzung
🚌 Gute Anbindung
⏰ Flexible Arbeitszeiten
🏠 Home Office
🏝 Extra Urlaubstage
😇 Zeit für ehrenamtliche Tätigkeit
🏋🏿‍♂️ Fitness Angebote
🎳 Team Events
💰 Teambudget zur freien Verfügung
🚲 Fahrradabstellplatz
🎮 Gaming Room
🤫 Ruheräume
🥪 Snacks, Süßigkeiten
🍏 Frisches Obst
☕️ Kaffee, Tee o. Ä
Du kannst dich nicht mehr bewerben, da dieser Job nicht mehr aktiv ist.
Erfahre mehr zum DevTeam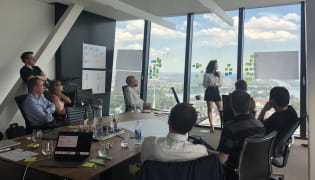 Arbeitsgerät
Zusatz Monitor, Laptop
Work Environment
Open Space
Separate Räume
Flexible Arbeitszeiten
Home Office
Klimaanlage
Musik am Arbeitsplatz
Stand Desk
Technology
So coden wir
Coding Kultur
Code Reviews
Pair Programming
Style Guide
Automatisierte Tests
Continuous Integration
Open Source Contribution
Team
We have a single team of software developers and we address problems following a technology-agnostic approach. We believe in a full-cycle developer model, where all members are responsible for designing, shipping, testing and maintaining our services. Everyone can release to production at any time and is encouraged to do so as often as possible. We are passionate about functional programming and applying it on a scale of services.
We are working closely with sales, marketing and product teams to define strategies and agree on priorities.
Team Sprachen
Englisch
Team Verteilung
International, Verteilt
Teamgröße
1-6 Mitarbeiter
Entwicklungsprozess
Kanban, Rapid Application Development, Test Driven Development
We have a Kanban board we follow. The backlog is filled and prioritized together with the head of product. We have a daily stand-up at 10am and a weekly Engineering session for larger topics.
Entscheidungen
Architektur
Team, Architekt
Technologie
Team, Architekt
Konventionen
Team, Architekt
Unsere Werte
Automate everything
Knowledge sharing
DevOps mindset
Functional Programming
Release early, release often
Kollegen
Adam Eri
Lead Software Engineer
Warum hast du dich für dieses Team entschieden?
I joined bimspot very early, because the company's vision to enable the construction industry to develop more extraordinary solutions through digitalisation was intriguing from the beginning. The sustainability aspects of our services are especially dear to me.

The massive technical challenges and the practically endless opportunities in such an underdigitised industry are really compelling.

Worum geht´s in deinem Job?
As Head of Engineering my job is to establish and maintain a culture, where everyone in the team has the necessary means and environment to perform at their best.

As a software architect I drive automation efforts, cloud native directives and DevOps practices. I am identifying technologies and patterns and designing the architecture of the system using a variety of technologies.

Was gefällt dir besonders an deinem Job?
Solving complex problems in a team and the ability to work with a wide range of technologies and state-of-the-art solutions.
Balint Bende
Software Engineer
Warum hast du dich für dieses Team entschieden?
The bimspot team develops a great and interesting innovation for the construction industry which combines my original field of interest with the opportunity to work on a real web-based development project, using the latest technologies.
Worum geht´s in deinem Job?
I'm a backend software developer, mostly responsible for processing the incoming building data. Besides, I usually participate in any kind of general backend processes, like database management or service development.
Was gefällt dir besonders an deinem Job?
The project is super motivating, a great opportunity to learn and use the latest technologies, nevertheless the freedom and trust I get about my daily job.
Karriere
Perspektiven
Self-development possibilities through workshops, training and personal projects. A personal budget for training, conferences and certifications.
Weiterbildungsmöglichkeiten
🎓 Zeit für eigene IT bezogene Projekte
🎓 IT-Zertifizierungen
🎓 Teilnahme an Meetups
🎓 Zugang zu Online-Kursen
🎓 Inhouse-Trainings
🎓 Zeit um neue Technologien zu erlernen
Infos zum Bewerbungsprozess
Wie viele Runden gibt es?
2 Runden
Wann erfährst du, ob du eingeladen wirst?
Innerhalb von zwei Wochen
Wie wird das erste Bewerbungsgespräch durchgeführt?
Videointerview oder Persönlich vor Ort
Wer ist beim ersten Bewerbungsgespräch dabei?
Fachabteilung, Geschäftsführung
Wie beurteilen wir deine technischen Skills?
Fachliche Arbeitsaufgabe, Direkt im Gespräch
Weitere Berufe
Ansprechpartner