Technologien und Skills
Deine Rolle im Team
BUILD & EXTEND DIGITAL SIGNAGE PLAYER
You'll build and extend core Android applications for specific digital signage screen hardware and work in a co-development manner with our existing partner. Understanding the current core platform architecture on various layers and analyse architecture concepts to ensure a modular and future-proof way of working is key.
Communication layers between Screen hardware and a cloud-managed core backend are key and therefore lower WiFi / BLE protocols are specialties you are happy to work with. You are familiar with state-of-the-art software development practices and value working with agile practices such as code reviews and XP.
INTEGRATE WITH CO-DEVELOPMENT TOOLS & SERVICES
We are a small start-up and heavily rely on our current external vendor. You´ll help select and evaluate the right tools to guarantee seamless workflows co-developing software with our given fulfillment partner.
TEAMWORK & COMMUNICATION
As part of your role you'll work side by side with our external fulfillment partner and engineers of other disciplines. You are great in communication and know the outcome is strongly dependent on teamwork.
PRODUCT INNOVATION
In a start-up like environment, you'll together with our users and key stakeholders create new concepts and product ideas. You keep up-to-date with digital signage industry trends and strive to be at the cutting edge when it comes to user experience and application performance. You'll implement small POC's to show the value of new product ideas to our end users.
Unsere Erwartungen an dich
Qualifikationen
Knowledge about state of the art End-Consumer facing Android applications or even cross platform development with Flutter is a plus.
Experience working with design tools (Figma, Sketch) is also considered to be a plus
Erfahrung
3+ years of professional experience building complex Android applications focusing on core Android OS functionalities and hardware specialties. JAVA, Kotlin, C, C++ with knowledge around Android NDK is key to develop low level services on custom digital signage screen hardware.
Experience building event driven architectures (e.g. using XMPP, Openfire, AMQP)
Rasperry Pi, sensors or additional hardware challenges fuel your inspiration. Prototyping and experimenting with Hardware and its low-level protocols around WiFi / BLE is exciting for you too.
Ausbildung
Degree in Informatics, Computer Science or similar
Das ist dein Arbeitgeber
Ever wonder where Red Bull content comes from? Red Bull Media House is a multi-platform global media company that creates authentic and inspiring entertainment to fascinate people. Our product portfolio includes long and short form videos, still images, documentaries, feature films, music, games and mobile apps, as well as print and online magazines. Check out our open roles if you want to be part of inspirational storytelling and innovating new ways of leveraging media platforms. Since the early days of Red Bull, an entrepreneurial mindset has always guided our approach to work and the environment we create: MEANING Find your meaning and use your strengths to achieve it! The bigger reason why you work. To contribute and add value to something or someone. FREEDOM & RESPONSIBILITY Take real responsibility for yourself and your work. To have the freedom to work on something the way you want to. MASTERY Love life, love work, love to challenge yourself! Turn your talents into strengths to become excellent at what you do. https://www.wingfinder.com/ Wingfinder is an assessment that focuses on your strengths, and gives you the tools and coaching to be even better.
Branche
Medien, Verlagswesen
Gründungsjahr
2007
Unternehmensgröße
250+ Mitarbeiter
Erfahre mehr zum DevTeam
Technology
So coden wir
Coding Kultur
Code Reviews
Pair Programming
Automatisierte Tests
Continuous Integration
Team
You´ll work in an agile team, which strongly believes in the culture of shared code ownership, pair programming and code reviews. While designing and implementing solutions, you´ll always be supported by your peers and vice versa. We believe in constant constructive feedback as a crucial ingredient for personal development of skills.
Team Sprachen
Deutsch Englisch
Team Verteilung
International, Nicht Verteilt
Teamgröße
20+ Mitarbeiter
Entwicklungsprozess
We apply SCRUM with daily stand-ups and two weeks sprints. We do regular retrospectives and refinements which helps us in our team collaboration and further improvements.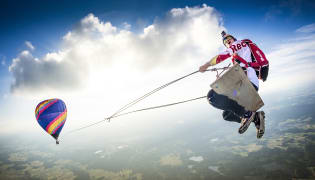 Unsere Werte
We love to learn new things.
We are passionate about our products.
We work in an agile software development environment.
We work together in small teams.
We are an international team with a strong team spirit.
Karriere
Infos zum Bewerbungsprozess
Wie viele Runden gibt es?
3 Runden.
Derzeit gesuchte Berufe
Weitere Berufe
Ansprechpartner