Deine Rolle im Team
You are the product manager of our cross-platform product, working closely together with our web and mobile teams on combining payment and insurance systems into a smooth experience for our users.
You will be responsible for realizing and running a mix of mobile and web products, using modern financial technology, insurance technology, and medical technology services with a human touch.
Work tightly together with our Co-Founders, Fredrik Debong and Sebastian Gruber, and our Product Development Team on shaping the company
Work directly with customers, channeling what you learn into roadmaps for your product and features
Prioritize opportunities according to impact on business objectives, effort and confidence, and facilitate roadmap discussions
Own the product discovery process to create solutions that solve customer problems and deliver business value
Write detailed specifications for features, work with UX design to get wireframes and prototypes & collaborate with the development team to make sure everything is clearly defined for them to implement what you envision
Be responsible to translate solutions into requirements and work as a product owner with a scrum team to drive implementation
Carry responsibility, make decision for the products you manage and prioritise what matters most; performance, quality and results matter
Move the team forward and focus us in the right direction, combining the company's design, development and communication skills into a smooth and meaningful product
Unsere Erwartungen an dich
Qualifikationen
Strong customer empathy, with an ability to transform complex data and customer insights into a prioritized roadmap
A strong understanding for complex technical architectures of modern mobile applications. It comes natural to you to discuss topics on a technical level with engineers
Expertise with project management tools such as Jira and Confluence
You are an outgoing and open-minded person who can motivate a team to go the extra mile, same as you do
Exceptional communication skills to manage the different stakeholders
You are fluent in English and German at a professional level; other languages are advantageous as we are working in a fully international team
Self-motivation and self-awareness, entrepreneurship, long-term thinking and collaborative teamwork
Erfahrung
3+ years experience in B2C as product manager / owner and a total of +6 years of working experience in relevant roles
Working experience in a startup environment or startup-minded organization is a must
Experience in product management for mobile applications (Android & iOS)
Experience in leading a cross-functional product team in an agile environment
Experience with both qualitative and quantitative product research and testing. You have previously conducted interviews, user tests and A/B tests to inform your decisions
Demonstrable success in launching new consumer-facing products or features
Experienced in story writing, or story writing skills
Das ist dein Arbeitgeber
hi.health offers people with private health insurance convenient and safe access to health care billing via app or web. Users can easily submit their invoices digitally and hi.health takes care of the further processing, billing and customer service providing a seamless user experience. With the integrated "library" users receive a transparent overview of relevant digital health products and services, that are (partially) covered by their insurance. hi.health operates at the intersection of digital health, fintech and insurtech. While each of these rapidly growing markets are already exciting in themselves, their combination in one product is unique.
Branche
Internet, IT, Telekom
Gesundheitswesen, Soziales
Banken, Finanz, Versicherung
Gründungsjahr
2019
Unternehmensgröße
1-49 Mitarbeiter
Benefits
🛍 Mitarbeitervergünstigungen
🚌 Gute Anbindung
⏰ Flexible Arbeitszeiten
🏠 Home Office
🕺 No Dresscode
🏋🏿‍♂️ Fitness Angebote
🎳 Team Events
♿️ Barrierefreiheit
💰 Teambudget zur freien Verfügung
⚽️ Tischkicker o. Ä.
🥘 Essenszulage
🍏 Frisches Obst
☕️ Kaffee, Tee o. Ä
Erfahre mehr zum DevTeam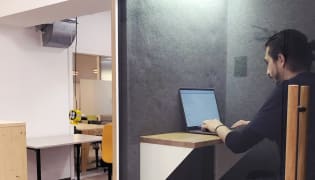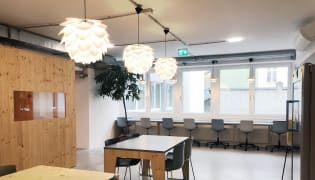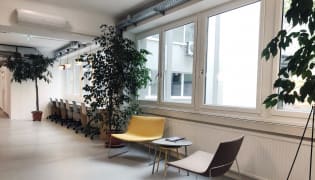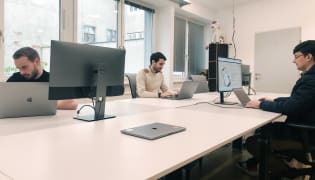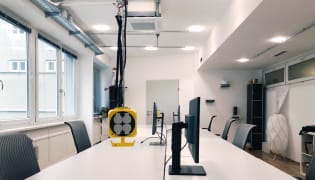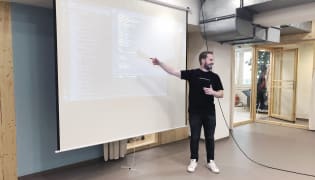 Arbeitsgerät
Laptop, Zusatz Monitor
Work Enviroment
Open Space
Separate Räume
Flexible Arbeitszeiten
Keine Kleiderordnung
Home Office
Klimaanlage
Choose your own device
Technology
So coden wir
Coding Kultur
Code Reviews
Pair Programming
Style Guide
Automatisierte Tests
Continuous Integration
Mob Programming
Code-Metriken
Open Source Contribution
Team
We work in cross-functional product development teams and use our own type of an agile development process with typical characteristics of Scrumban. We constantly try to improve our process and from time to time we also break out of it to work in design sprints, organize "focus days" and hackathons. We're all about keeping a balance between flexibility and maintaining a settled and clear process, flow and cadence.
Team Sprachen
Englisch
Team Verteilung
International, Verteilt
Teamgröße
7-19 Mitarbeiter
Entwicklungsprozess
Scrum, Kanban, Scrumban
We constantly develop and try to improve our own kind of Scrumban. Currently we have set up a 1-week cadence and bi-weekly review our progress and process retrospectively.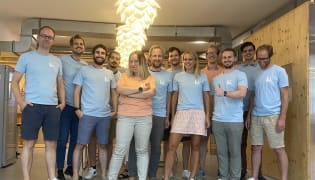 Entscheidungen
Unsere Werte
Simple
Playful
Human
Game-changing
Karriere
Weiterbildungsmöglichkeiten
🎓 Teilnahme an Fachkonferenzen
🎓 IT-Zertifizierungen
🎓 Teilnahme an Hackathons
🎓 Teilnahme an Meetups
🎓 Zugang zu Online-Kursen
🎓 Eigene Fachbibliothek
🎓 Zeit um neue Technologien zu erlernen
Infos zum Bewerbungsprozess
Wie viele Runden gibt es?
3 Runden.
Wann erfährst du, ob du eingeladen wirst?
Innerhalb einer Woche.
Wie wird das erste Bewerbungsgespräch durchgeführt?
Videointerview
Wer ist beim ersten Bewerbungsgespräch dabei?
Teammitglied
Wie beurteilen wir deine technischen Skills?
Direkt im Gespräch
Derzeit gesuchte Berufe
Weitere Berufe
Ansprechpartner