Dieser Job ist nicht mehr aktiv.
Technologien und Skills
Mehr Technologien anzeigen
Deine Rolle im Team
architecting, designing, implementing, and delivering our cloud-based applications
customer-facing management web applications and APIs, as well as data endpoints
modeling of complex real-world scenarios (Digital Twins) combined with real-time event streams
Aufgaben Verteilung
Unsere Erwartungen an dich
Erfahrung
1+ years of experience in software engineering or demonstrate software engineering skills on projects you worked on
Experience with Java/Spring (or similar), REST API, SQL/NoSQL
Experience with Docker, Microsoft Azure, CI/CD
Experience with ReactJS, Typescript, NodeJS
Experience with Linux
Das ist dein Arbeitgeber
Swarm Analytics develops revolutionary AI technology for transforming cameras into smart sensors. Turning simple cameras into GDPR compliant smart sensors leads to smarter, faster, easier, and trustworthy solutions while increasing affordability. Based on Swarm Analytics' sensor technology, the solution partners deliver a broad range of end-to-end smart city solutions for traffic, parking, public transport, and retail. Founded in 2018 in Innsbruck, Austria Swarm Analytics' products are already in use throughout Europe and North America.
Branche
Internet, IT, Telekom
Sonstige Branchen
Gründungsjahr
2018
Unternehmensgröße
1-49 Mitarbeiter
Benefits
Du kannst dich nicht mehr bewerben, da dieser Job nicht mehr aktiv ist.
Erfahre mehr zum DevTeam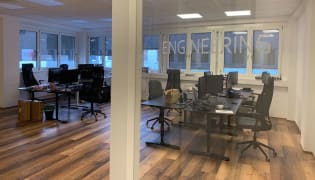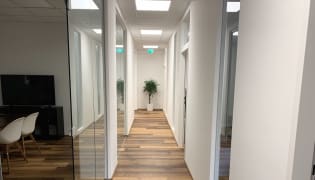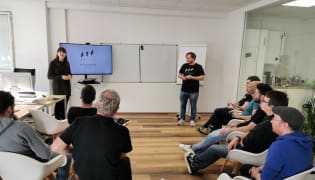 Arbeitsgerät
Zusatz Monitor, Laptop
Work Enviroment
Open Space
Separate Räume
Flexible Arbeitszeiten
Keine Kleiderordnung
Home Office
Klimaanlage
Musik am Arbeitsplatz
Stand Desk
Technology
So coden wir
Coding Kultur
Code Reviews
Style Guide
Automatisierte Tests
Continuous Integration
Code-Metriken
Team
The development team consists of software engineers who architect, implement, deliver and maintain applications and platforms. We operate vertically and are organized via Scrum. The software engineers work on the full stack from data and neural network models to high-performance software running on the edge to highly scalable microservices in the cloud.
Team Sprachen
Englisch
Team Verteilung
National, Nicht Verteilt
Teamgröße
7-19 Mitarbeiter
Entwicklungsprozess
Scrum, Test Driven Development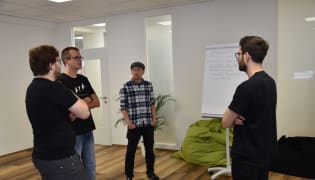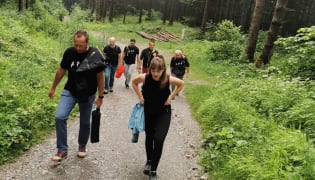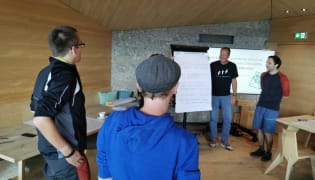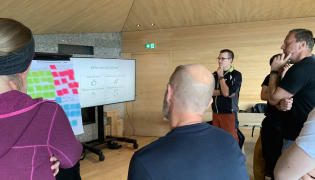 Entscheidungen
Unsere Werte
Simplicity: We solve complex problems as simple and smart as possible with a customer focus in mind.
Quality: We develop test-driven and ensure high software quality through code reviews, static analysis, CI/CD, and QA.
Kollegen
Michael Rogger
Lead Software Developer
Warum hast du dich für dieses Team entschieden?
I joined Swarm Analytics because of their focus on computer vision-based products that solve real-world problems. The software-defined approach and the opportunity to contribute to the company's growth is very exciting.
Worum geht´s in deinem Job?
My responsibility is to build up the engineering team with highly motivated and skilled team members. Additionally, I am involved in aligning business goals with software engineering.
Was gefällt dir besonders an deinem Job?
I like the interdisciplinary nature of our work - from neural networks to hardware, we are involved in every stage. I enjoy working with highly skilled and motivated colleagues in vertically organized teams, iterating ideas from concept to implementation within days, direct communication paths and low bureaucratic overhead.
Christiane Pöschl
Software Engineer
Warum hast du dich für dieses Team entschieden?
The Swarm Analytics team is a young team, meaning that there is no "we've always done it that way"-attitude but everyone is motivated and eager to contribute to building up a company. Each team member can reach their full potential since everybody works in their field of competence.
Worum geht´s in deinem Job?
At Swarm Analytics, we try to use neural networks to detect objects in a video stream on cost-effective hardware as quickly as possible. The skill here is to design small and efficient neural networks. My job is to find the best approach to solve such optimization problems and make them work on our products
Was gefällt dir besonders an deinem Job?
I like the rich variety in the everyday job – there's a new challenge every day. I also appreciate the team and the working atmosphere. I mainly work with engineers and not with customers or partners, so that I do not have to follow any dress-code or try to use non-technical or non-geeky language.
Michael Craggs
Software Engineer
Warum hast du dich für dieses Team entschieden?
The prospect of working with a young and dynamic team of likeminded engineers.
Worum geht´s in deinem Job?
Applying modern software development patterns and practices to create robust and sustainable software solutions, constantly optimizing and improving, in accordance to the ever evolving technologies on the market.
Was gefällt dir besonders an deinem Job?
Creative freedom to explore and achieve high quality and high performance software targeted to a diversity of platforms and the technical challenges that require an out of the box approach.
Florian Fischer
Software Engineer
Warum hast du dich für dieses Team entschieden?
I made the decision to join Swarm Analytics primarily out of a desire to learn and engage with new and exciting technologies in a highly product-driven team.
Worum geht´s in deinem Job?
My job involves the whole software engineering lifecycle on various platforms and tech stacks (spanning from cloud to low-level). Practically, this means to be involved in product discussions, conceptualization of solutions, picking suitable technologies (software, hardware, infrastructure), and implementation and testing. Another aspect is continually trying to improve the software delivery process itself, i.e. reflecting on how we do things and applying suitable steps (automation, quality assurance, etc.).
Was gefällt dir besonders an deinem Job?
Ultimately the challenge of building a new and innovative product ensures that no day is the same. Decisions are made collaboratively and have to result in pragmatic as well as robust outcomes. There is little black and white thinking.
Karriere
Perspektiven
We are a startup with the goal of becoming an industry leader in the area of smart cameras. Since we are steadily growing and our product is developing quickly, every person at Swarm Analytics gets the opportunity to thrive with us. Be it learning new technologies or contributing own ideas – there are numerous possibilities to improve your know-how and to learn from each other.
Weiterbildungsmöglichkeiten
🎓 Teilnahme an Meetups
🎓 Zugang zu Online-Kursen
🎓 Eigene Fachbibliothek
🎓 Zeit um neue Technologien zu erlernen
Infos zum Bewerbungsprozess
Wie viele Runden gibt es?
3 Runden.
Wann erfährst du, ob du eingeladen wirst?
Innerhalb von zwei Wochen.
Wie wird das erste Bewerbungsgespräch durchgeführt?
Telefoninterview
Wer ist beim ersten Bewerbungsgespräch dabei?
HR-Abteilung
Wie beurteilen wir deine technischen Skills?
Fachliche Arbeitsaufgabe, Direkt im Gespräch
Weitere Berufe
Ansprechpartner