.NET Core Back End Developer
Technologien und Skills
Deine Rolle im Team
Develop and maintain backend services using .NET Core in containerized environments (Docker)
Work with a micro-service architecture hosted on Amazon Web Services (AWS)
Close collaboration with DevOps to create modern and highly scalable services
Be part of creating next-level media experiences by developing cutting-edge content streaming solutions
Aufgaben Verteilung
Unsere Erwartungen an dich
Qualifikationen
Show a willingness to learn and grow
Proficient in English (work as part of an international team)
Erfahrung
Advanced knowledge with C# (.NET core) and cloud services (AWS, Azure)
3+ years of work experience
Ausbildung
Bachelor's degree in computer science or comparable qualification
Das ist dein Arbeitgeber
NativeWaves delivers an engaging and immersive media experience to audiences around the world. We provide easy to use, advanced streaming solutions to the broadcast, esports and live entertainment industries to reliably deliver multiple streams of video, audio and up-to-the-minute data, in perfect sync. Our core competences are on UX and technology to define and develop the future of live media consumption and enable a best-in-class, personalised viewer entertainment experience.
Branche
Internet, IT, Telekom
Gründungsjahr
2016
Unternehmensgröße
1-49 Mitarbeiter
Benefits
💻 Notebook zur Privatnutzung
🏠 Home Office
⏰ Flexible Arbeitszeiten
🚌 Gute Anbindung
🙅‍♂️ No All-In-Verträge
🕺 No Dresscode
🅿️ Mitarbeiterparkplatz
😇 Zeit für ehrenamtliche Tätigkeit
🎳 Team Events
⚽️ Tischkicker o. Ä.
☕️ Kaffee, Tee o. Ä
Erfahre mehr zum DevTeam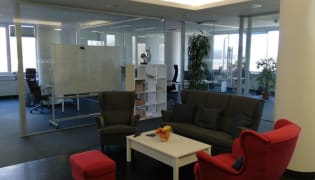 Arbeitsgerät
Zusatz Monitor, Laptop, Desktop
Work Environment
Flexible Arbeitszeiten
Keine Kleiderordnung
Home Office
Klimaanlage
Musik am Arbeitsplatz
Technology
So coden wir
Coding Kultur
Code Reviews
Style Guide
Continuous Integration
Team
We are working with agile methodologies and flat hierarchies and the team is structured based on expertise: Backend and Frontend (Web, Android, iOS). We have regular cross-functional meetings with all developers to keep everyone in the loop. New ideas are always welcome and will be integrated into the product development.
When working on new features and projects, we encourage everyone to take initiative in communicating directly with colleagues to work agile and flexible together without exuberant processes.
Team Sprachen
Deutsch Englisch
Team Verteilung
International, Verteilt
Teamgröße
7-19 Mitarbeiter
Entwicklungsprozess
Kanban, Feature-Driven Development, Scrumban
Entscheidungen
Architektur
Team, CTO, Senior Developer
Technologie
Team, Senior Developer
Konventionen
Team, Senior Developer
Unsere Werte
Agile & Flexible
Self-Initiative & Creativity
Goal-Oriented Thinking
Fun & Passion
Teamwork & Team Spirit
Karriere
Perspektiven
The personal growth and development of each of our colleagues is very important to us. We are always open to support someone with learning new technologies and provide the possibility to tap into new areas.
Weiterbildungsmöglichkeiten
🎓 Zugang zu Online-Kursen
🎓 Zeit um neue Technologien zu erlernen
Infos zum Bewerbungsprozess
Wie viele Runden gibt es?
2 Runden
Wann erfährst du, ob du eingeladen wirst?
Innerhalb von zwei Wochen
Wie wird das erste Bewerbungsgespräch durchgeführt?
Videointerview oder Persönlich vor Ort
Wer ist beim ersten Bewerbungsgespräch dabei?
Fachabteilung
Wie beurteilen wir deine technischen Skills?
Fachliche Arbeitsaufgabe
Derzeit gesuchte Berufe
Weitere Berufe
Ansprechpartner