Technologien und Skills
Mehr Technologien anzeigen
Deine Rolle im Team
You implement backend services with Laravel by connecting to data stores like MySql or Redis as well as other third-party services
You build REST APIs to be consumed by web frontends
You build interactive, performant and user friendly user interfaces with Vue.js / HTML / CSS and JavaScript
You work with agile software development principles and tools like Jira / Confluence / Gitlab
You are constantly looking for new technologies and methods to make our platform better, faster and more stable.
Aufgaben Verteilung
Unsere Erwartungen an dich
Qualifikationen
Eagerness to learn: Nobody is perfect. If you are not familiar with something you can always learn it!
You are adventurous, mistakes help you learn.
Start-up spirit: You have a "can do"-mentality.
Creativity: You always come up with - sometimes crazy - ideas.
Language skills: You speak German and/or English.
Erfahrung
You are experienced in professionally working with full stack web frameworks (Laravel, Ruby on Rails, etc.)
You have experience with JavaScript and CSS as well as Vue.js or a similar framework.
You work with git and modern build tools such as webpack.
You have already worked with PHP or are willing to learn it.
You are familiar with databases (MySql, Redis).
Das ist dein Arbeitgeber
We develop a platform where you can find your dream job in Austria. We know that we can do that because we have a huge diversity of jobs to choose from and we show you the most relevant jobs for your search query. For our customers we offer a performance based and transparent product which can be individually configured for their needs. No fixed but dynamic prices that adapt based on what is searched on our platform. Moreover, the customers only pay when we deliver, which means that we do everything to link the best candidates to the best jobs.
Branche
Internet, IT, Telekom
Gründungsjahr
2017
Unternehmensgröße
1-49 Mitarbeiter
Benefits
Erfahre mehr zum DevTeam
Technology
So coden wir
Coding Kultur
Code Reviews
Style Guide
Automatisierte Tests
Continuous Integration
Team
We work as a common software development team consisting of three Web Developers and a Lead Web Developer on the platform jobs.at. The tasks our developers work on daily cover all parts from Web-Frontend to the implementation of Backend services. We work with an agile Kanban-like development process closely together with our product manager. Every member of our Dev-Team is characterised by a high degree of personal responsibility.
Team Sprachen
Deutsch Englisch
Team Verteilung
National, Nicht Verteilt
Entwicklungsprozess
Kanban, Feature-Driven Development, Scrumban
We use a mixture of Kanban and Scrum for our daily work. Thereby, we use artefacts and meetings from both worlds which we tested, selected and improved for our working style. Our work packages are represented in a transparent way in Jira and the ones of the current sprint are visualized on a virtual board. Every code change has to be reviewed before going into our mainline branch because we believe that this enables shared code ownership and decreases the potential for bugs in production. Like it is common for an agile development process, we do a daily stand-up as well as a regular retrospective. Our devs participate in the weekly grooming session where we discuss the tickets prepared for the upcoming week to eliminate any unclarities and talk about certain details regarding implementation.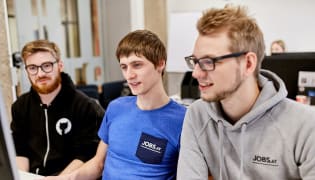 Entscheidungen
Architektur
Teamleiter, Team
Technologie
Team, Teamleiter
Unsere Werte
Be an active developer and bring in new ideas
Be eager to learn new things and consistently improve
Try out things and learn from your mistakes
Kollegen
Warum hast du dich für dieses Team entschieden?
Ich schätze die vielseitigen Aufgaben in einem kleinen Team wie wir es bei jobs.at sind. Man muss sehr eigenständig arbeiten und hat einen hohen Grad an Eigenverantwortung für die Dinge die man in der täglichen Arbeit umsetzt. Als kleines Team gibt es so gut wie keine festgefahrenen Strukturen und man hat die Möglichkeit mit neuen Technologien im Web Development zu arbeiten und diese auch produktiv einzusetzen. Die Kollegen verstehen sich gut untereinander und es herrscht eine offene, hilfsbereite und freundliche Atmosphäre.
Worum geht´s in deinem Job?
Ich bin für die technische Konzeption in Bezug auf die Softwarearchitektur bei der Planung- und Umsetzung neuer Features zuständig. Dabei arbeite ich eng mit dem Produktmanagement zusammen um die Arbeitspakete für die Umsetzung bestmöglich aufzubereiten. Ich bin dafür verantwortlich, dass die Plattform jobs.at technologisch auf dem aktuellen Stand ist und stabil läuft. Ich übernehme außerdem die technische Abstimmung für Schnittstellen zu externen Partnern.
Was gefällt dir besonders an deinem Job?
Die vielseitigen Aufgaben und schnelle Überführung von Ideen in die Umsetzung ohne einen großen Overhead an definierten Prozessen und langen Kommunikationswegen.
Karriere
Perspektiven
Every developer has the possibility for further education at work by visiting conferences or meetups. Developers are encouraged to get better and potentially become experts at certain topics at jobs.at they are especially interested in. They have the opportunity to get even more responsibility in such kind of areas where they can have their own projects they lead.
Weiterbildungsmöglichkeiten
🎓 Teilnahme an Fachkonferenzen
🎓 Zeit um neue Technologien zu erlernen
🎓 Zeit für eigene IT bezogene Projekte
🎓 Teilnahme an Hackathons
🎓 Teilnahme an Meetups
🎓 Zugang zu Online-Kursen
Infos zum Bewerbungsprozess
Wie viele Runden gibt es?
2 Runden.
Wann erfährst du, ob du eingeladen wirst?
Innerhalb einer Woche.
Wie wird das erste Bewerbungsgespräch durchgeführt?
persönlich vor Ort
Wer ist beim ersten Bewerbungsgespräch dabei?
HR-Abteilung, Teammitglied
Wie beurteilen wir deine technischen Skills?
Fachliche Arbeitsaufgabe, Direkt im Gespräch
Derzeit gesuchte Berufe
Ansprechpartner