Senior DevSecOps Engineer
Technologien und Skills
Deine Rolle im Team
Unterstützung bei der Definition des Lifecycles für sichere Softwareentwicklung sowie Security Begleitung von Entwicklungsprojekten (Datenschutzkonformes Applikationsdesign, Sicherheitskonzeption, Threat Modelling, Security Test, Security Source Code Analysen, etc.)
Dokumentationserstellung zu Sicherheitsanforderungen für Applikationen (Web, Mobile, Host, SOA, etc.)
Entwicklung von Sicherheitsrichtlinien und -kontrollen, einschließlich der Implementierung von Prozessen im Falle von Verstößen
Automatisierung bestehender Arbeitsabläufe zur Verbesserung der Entwicklungszeit
Projektorientierte Teamarbeit in enger Zusammenarbeit mit erfahrenen ExpertInnen
Unsere Erwartungen an dich
Qualifikationen
Fachexpertise in Security and Network Testing Tools und Services (Vulnerability Scanning, Port Scanning, Asset Discovery, Asset Management, Log Analysis, etc.)
berzeugende Kommunikationsfähigkeit in Deutsch und Englisch
Erfahrung
Erste) Berufserfahrung in der Softwareentwicklung und SDLC in Java, Python, C#, etc.
Ausbildung
Abgeschlossenes Studium mit einschlägiger Spezialisierung Software Engineering bzw. Security Engineering oder anderswertig erworbene Fachkenntnisse
Einschlägige Zertifizierungen (CSSLP, CISSP, CISA, etc.) definitiv von Vorteil
Das ist dein Arbeitgeber
"We are a creative digital consultancy. We imagine, deliver and run the future." Deloitte Digital provides a broad spectrum of technology expertise, development services and solutions to our clients and partners to help them overcome their biggest challenges in today's fast-paced environment. We are passionate and focused on helping clients tackle their most complex challenges.
Branche
Beratung
Internet, IT, Telekom
Gründungsjahr
2017
Unternehmensgröße
50-249 Mitarbeiter
Benefits
💰 Mitarbeiterprämie
💸🚎 Verkehrsmittel-Zuschuss
💵 Bonuszahlungen
👴🏻 Betr. Altersvorsorge
📱 Handy zur Privatnutzung
🎁 Mitarbeitergeschenke
🛍 Mitarbeitervergünstigungen
💻 Notebook zur Privatnutzung
🚌 Gute Anbindung
⏸ Bildungskarenz/Auszeit
⏰ Flexible Arbeitszeiten
🏠 Home Office
🙅‍♂️ No All-In-Verträge
🕺 No Dresscode
😇 Zeit für ehrenamtliche Tätigkeit
🙂 Gesundheitsförderung
🏋🏿‍♂️ Fitness Angebote
🧘‍♀️ Massage, Yoga o. A.
🎳 Team Events
👩‍⚕️ Betriebsarzt
♿️ Barrierefreiheit
💰 Teambudget zur freien Verfügung
🚲 Fahrradabstellplatz
🧠 Psychische Gesundheitsv.
⚽️ Tischkicker o. Ä.
👨🏻‍🎓 Paten- & Mentor- Programm
🥘 Essenszulage
🥪 Snacks, Süßigkeiten
🍏 Frisches Obst
☕️ Kaffee, Tee o. Ä
Erfahre mehr zum DevTeam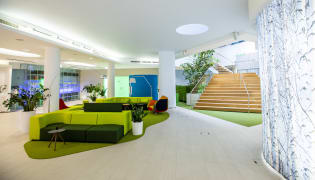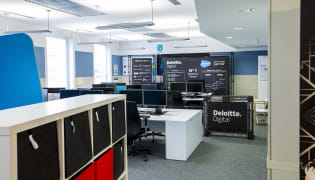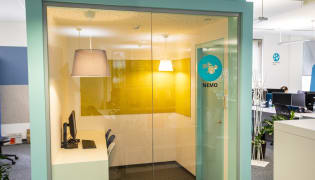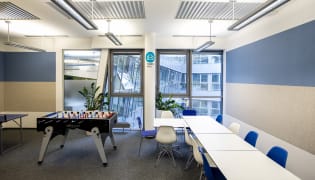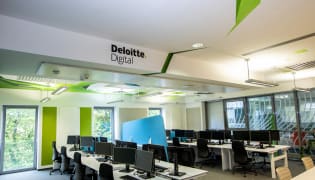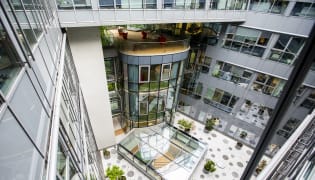 Arbeitsgerät
Laptop, Zusatz Monitor
Work Environment
Open Space
Separate Räume
Flexible Arbeitszeiten
Keine Kleiderordnung
Home Office
Klimaanlage
Musik am Arbeitsplatz
Stand Desk
Technology
So coden wir
Coding Kultur
Code Reviews
Pair Programming
Automatisierte Tests
Continuous Integration
Code-Metriken
Team
Bei Deloitte Digital trifft man auf SW-Architekten, Developer, Marketing Experts, agile Projektmanager, die ihre kreativen und technologischen Skills in einer leistungsstarken Digitalagentur bündeln. Agile Experten begleiten die Projekte und den Change Prozess mit den passenden Trainingsansätzen und Methodenkompetenz.

We have a team of cloud specialists, software engineers and technologists that help clients with custom software delivery in the area of transactional systems, data oriented architecture, digital marketing and Salesforce implementation. Our team is composed of a variety of different expertise such as Project Mgrs, Front End & Back End software developers, QA and data & marketing experts. Work in close collaboration with customer in agile fashion

Team Sprachen
Deutsch Englisch
Team Verteilung
International, Nicht Verteilt
Teamgröße
20+ Mitarbeiter
Entwicklungsprozess
Scrum, Kanban, Behavior Driven Development, Pragmatic Programming, Test Driven Development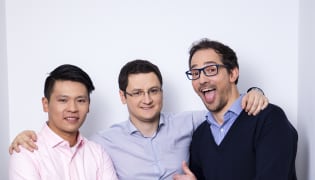 Entscheidungen
Architektur
Team, Architekt, Senior Developer, Kunden
Technologie
Team, Architekt, Developer, Senior Developer, Kunden
Unsere Werte
No Divas policy – collaborate for measurable impact
Lead the way – technology excellency in everything we do
Serve with integrity
Take care of each other
Foster inclusion
Karriere
Weiterbildungsmöglichkeiten
🎓 Zeit für eigene IT bezogene Projekte
🎓 Teilnahme an Fachkonferenzen
🎓 IT-Zertifizierungen
🎓 Teilnahme an Hackathons
🎓 Teilnahme an Meetups
🎓 Zugang zu Online-Kursen
🎓 Inhouse-Trainings
🎓 Zeit um neue Technologien zu erlernen
Infos zum Bewerbungsprozess
Wie viele Runden gibt es?
3 Runden
Wann erfährst du, ob du eingeladen wirst?
Innerhalb einer Woche
Wie wird das erste Bewerbungsgespräch durchgeführt?
Telefoninterview oder Persönlich vor Ort
Wer ist beim ersten Bewerbungsgespräch dabei?
HR-Abteilung, Fachabteilung
Wie beurteilen wir deine technischen Skills?
Fachliche Arbeitsaufgabe, Case Study, Direkt im Gespräch
Derzeit gesuchte Berufe
Weitere Berufe
Ansprechpartner