Dieser Job ist nicht mehr aktiv.
Technologien und Skills
Mehr Technologien anzeigen
Deine Rolle im Team
You will work on important innovations towards higher data efficiency, better explainability and runtime efficiency. This includes researching and developing training objectives, model architectures, transfer learning strategies, data augmentation and active learning policies with a focus on object detection and representation learning.
Unsere Erwartungen an dich
Qualifikationen
CUDA kernels, embedded Computer Vision
PyTorch or Tensorflow
Fundamental OS know-how, Unix and its command line tools
Git and associated development tools
Erfahrung
Experience with datasets for image classification, object detection or segmentation
It's nice if you can show practical experience in any of those areas:
Few-shot and representation learning
Object detection
Minification processes of machine learning models
CUDA kernels, embedded Computer Vision
Workflow and Task Management Systems
Functional Programming or any Programming that shows your passion for CS
Das ist dein Arbeitgeber
Wir arbeiten an den anspruchsvollsten Herausforderungen der Computer Vision. Seit der Gründung von MoonVision im Jahr 2017 lehren wir Maschinen, komplexe visuelle Aufgaben zu automatisieren. In unseren Schwerpunktbereichen tun wir das präziser, dateneffizienter und robuster als alle andere. Unsere Kunden sind Marktführer in Gastronomie- und Industrie Branchen und definieren neue Standards mit uns.
Branche
Internet, IT, Telekom
Gründungsjahr
2017
Unternehmensgröße
1-49 Mitarbeiter
Benefits
Du kannst dich nicht mehr bewerben, da dieser Job nicht mehr aktiv ist.
Erfahre mehr zum DevTeam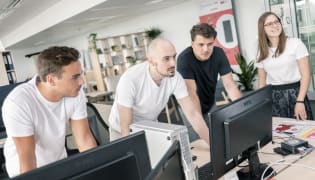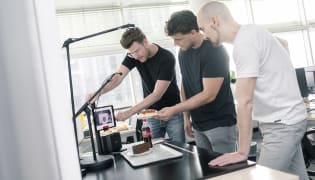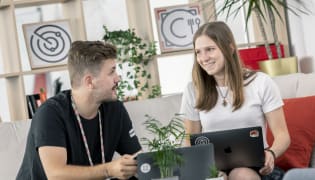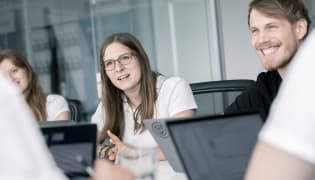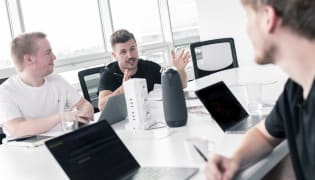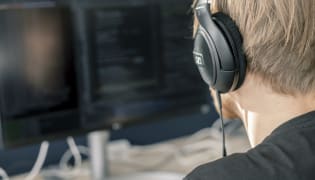 Arbeitsgerät
Zusatz Monitor, Laptop
Work Enviroment
Open Space
Flexible Arbeitszeiten
Keine Kleiderordnung
Home Office
Klimaanlage
Musik am Arbeitsplatz
Choose your own device
Technology
So coden wir
Coding Kultur
Code Reviews
Pair Programming
Style Guide
Automatisierte Tests
Continuous Integration
Code-Metriken
Open Source Contribution
Team
Derzeit sind wir 12 Personen in Wien, darunter 5 Entwicklerinnen in Branchen von UX/UI Design, Data Engineering, Computer Vision und IT Enterprise Solutions. Wir verwewnden Agile Methodologie und arbeiten mit Scrum und Kanban, um die besten Ergebnisse zu erreichen.
Team Sprachen
Deutsch Englisch
Team Verteilung
International, Nicht Verteilt
Teamgröße
7-19 Mitarbeiter
Entwicklungsprozess
Scrum, Kanban, Pragmatic Programming, Test Driven Development
Wir wenden Scrum für Projekte an, mit täglichen Scrum-Meetings um 10:00 und zweiwöchigen Sprint-Reviews. Für Data Science Projekte wir haben separate Kanban Board. Wir benützen Jira für alle Tasks und Confluence für Dokumentation.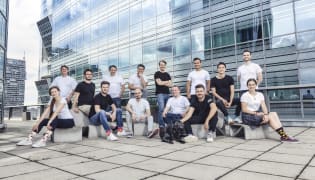 Entscheidungen
Architektur
Senior Developer, CTO
Technologie
Senior Developer, CTO, Scrum Team
Unsere Werte
Flache Hierarchie
Förderung der Eigentümerschaft von Kernideen und Leistungen
Offenheit für gegenseitiges Mentoring
Kollegen
Warum hast du dich für dieses Team entschieden?
MoonVision is a highly promising young company and I find the environment very friendly.
Worum geht´s in deinem Job?
I work on the data engineering tasks to deliver the tools for data management, reliability and quality. Moreover, I take the technical product owner role and translate business requirements to technical features.
Was gefällt dir besonders an deinem Job?
Variety of activities and strong sense of ownership.
Lukas S.
Lead Software Developer
Warum hast du dich für dieses Team entschieden?
Young open-minded team and the implicitness to help each other
Worum geht´s in deinem Job?
Continuous improvement of machine learning models and workflows using the latest computer vision research papers and open-source libraries
Was gefällt dir besonders an deinem Job?
The possibility to bring in my own ideas and a diversified field of activity.
Karriere
Perspektiven
Jeder Mitarbeiter bekommt eine Möglichkeit, durch regelmäßige 1-on-1s mit dem Teamleiter Weiterentwicklungsplan zu gestalten.
Weiterbildungsmöglichkeiten
🎓 Zeit für eigene IT bezogene Projekte
🎓 Teilnahme an Fachkonferenzen
🎓 IT-Zertifizierungen
🎓 Teilnahme an Hackathons
🎓 Teilnahme an Meetups
🎓 Zugang zu Online-Kursen
🎓 Zeit um neue Technologien zu erlernen
Infos zum Bewerbungsprozess
Wie viele Runden gibt es?
2 Runden.
Wann erfährst du, ob du eingeladen wirst?
Innerhalb von zwei Wochen.
Wie wird das erste Bewerbungsgespräch durchgeführt?
Videointerview
Wer ist beim ersten Bewerbungsgespräch dabei?
Fachabteilung
Wie beurteilen wir deine technischen Skills?
Fachliche Arbeitsaufgabe
Weitere Berufe
Ansprechpartner