Front End Developer AR VR
Technologien und Skills
Deine Rolle im Team
Unterstützung in der Frontend-Entwicklung
Konzeption von UI und UX im Team
Qualitative und stabile Codes erstellen
Aufgaben Verteilung
Unsere Erwartungen an dich
Qualifikationen
Sehr gute Kenntnisse in den Programmiersprachen JavaScript und React
Sehr gute Kenntnisse in HTML, CSS, SASS
Ausgezeichnete Deutschkenntnisse
Gute Englischkenntnisse
Wünschenswert: Erfahrungen mit Unity 3D
Wünschenswert: Erfahrungen mit dem Backend Framework NestJS
Teamfähigkeit
Freude an der Konzeptionierung im Team
lösungsorientierter und selbstständiger Arbeitsstil
Problemfelder eigenständig identifizieren und Lösungen finden können
Interesse an den Themengebieten AR & VR
Freude an detailorientierter Arbeit und Optimierung
Interesse an Remote Working
Das ist dein Arbeitgeber
CREATE 21. century & LEARN TOMORROW our subsidiary Company

 We create learning design in the 21st century.

 We offer solutions for management training and inspiration, recruiting, onboarding, development, product training or change processes.
 We design sustainable learning - integrated into life.
Branche
Internet, IT, Telekom
Gründungsjahr
2000
Unternehmensgröße
1-49 Mitarbeiter
Benefits
💸🚎 Verkehrsmittel-Zuschuss
🎁 Mitarbeitergeschenke
🚙 Poolcar
🍼 Kinderbetreuung
🚌 Gute Anbindung
⏸ Bildungskarenz/Auszeit
⏰ Flexible Arbeitszeiten
🏠 Home Office
🐕 Tiere willkommen
🕺 No Dresscode
🙂 Gesundheitsförderung
🎳 Team Events
💰 Teambudget zur freien Verfügung
🧠 Psychische Gesundheitsv.
⚽️ Tischkicker o. Ä.
🍽 Kantine/Betriebsrestaurant
🥪 Snacks, Süßigkeiten
🍏 Frisches Obst
☕️ Kaffee, Tee o. Ä
Erfahre mehr zum DevTeam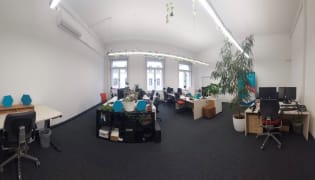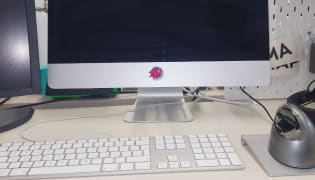 Technology
So coden wir
Coding Kultur
Code Reviews
Pair Programming
Automatisierte Tests
Continuous Integration
Team
We work in a cross-functional "squad": backend and frontend developers, UX / UI design and product owner sit in one place and develop ideas and projects together. We currently have 2 backend developers, 1 full stack developer and 3 front end developers. DevOps and infrastructure are outsourced to specialized companies also located in Vienna/Austria.
Team Sprachen
Deutsch Englisch
Team Verteilung
International, Nicht Verteilt
Teamgröße
7-19 Mitarbeiter
Entwicklungsprozess
Scrum, Feature-Driven Development, Waterfall
We have a daily Scrum-Meeting where we discuss what we have done so far today and still plan to do. There is also room to get colleagues' feedback and help if needed.
Since we are an international team with 2 fully remote workers, we use a virtual backlog in Redmine. Redmine can be used for both agile and waterfall project management, and since we are also involved in some "classic" customer projects, Redmine provides a very flexible solution for us.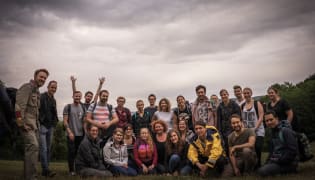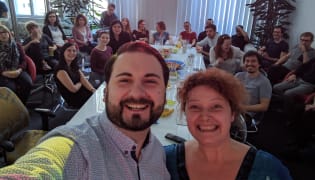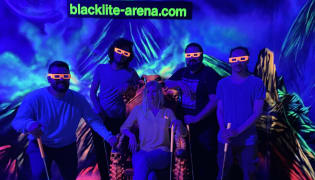 Entscheidungen
Architektur
Team, Senior Developer
Unsere Werte
Think independently!
Bring your individual strengths to the team!
Work collaboratively – no one gets left behind!
Let's be open for learning and new ideas!
Kollegen
Lorens J. – CTO, UX Designer
Senior Product Owner
Warum hast du dich für dieses Team entschieden?
My position in the team and the team just evolved over time. I started as a 3D graphic designer, content producer and with more and more experience I have driven the development of our product more and more. This then evolved into a leading position with a very new and international team.
Worum geht´s in deinem Job?
As I am a senior employee and have gained a lot of experience with our software, it is my task to find new ways of optimization, to design new features and to accompany their development. I also assist with customer inquiries and requests for new features.
Was gefällt dir besonders an deinem Job?
Always changing tasks and the possibility to create a product that works the way you want it to. Developing new features and observing how they are later used by users. My tasks are also a nice mix between design and web development, which I really like.
Warum hast du dich für dieses Team entschieden?
I used to work in the field of adult education and when I did my bachelor's degree in Media Technology, I focused on usability, gamification and game-based learning, and that is why I wanted to continue to work in that field after graduation. Also, I like the flexibility and easy-going atmosphere in this international team!
Worum geht´s in deinem Job?
I develop frontend applications and focus especially on the implementation of good UX on the way. I am also heavily involved in the design and development of new features, from requirement gathering over prototyping and development until the rollout of the finished feature.
Was gefällt dir besonders an deinem Job?
I have lots of different tasks and I get to be involved in so many stages of a product or feature, so it never gets boring. Also, I like that everyone can actively contribute to a project and bring in their ideas and perspective.
Karriere
Perspektiven
Professional development towards Senior Developer, Lead Developer, Team Lead as well as interdisciplinary development for those interested (e.g. UX, analytics, KPIs, DevOps).
Weiterbildungsmöglichkeiten
🎓 Teilnahme an Fachkonferenzen
🎓 Teilnahme an Meetups
🎓 Zugang zu Online-Kursen
🎓 Zeit um neue Technologien zu erlernen
Infos zum Bewerbungsprozess
Wie viele Runden gibt es?
2 Runden.
Wann erfährst du, ob du eingeladen wirst?
Innerhalb von zwei Wochen
Wie wird das erste Bewerbungsgespräch durchgeführt?
Videointerview
Wer ist beim ersten Bewerbungsgespräch dabei?
HR-Abteilung, Fachabteilung, Teammitglied
Wie beurteilen wir deine technischen Skills?
Fachliche Arbeitsaufgabe, Direkt im Gespräch
Derzeit gesuchte Berufe
Weitere Berufe
Ansprechpartner