Dieser Job ist nicht mehr aktiv.
Technologien und Skills
Deine Rolle im Team
Managing development, testing and maintenance of the PHIL system control software.
Maintaining high standards of software quality within the team by establishing best practices in code control, code reviews, unit testing and infrastructure architecture.
Adhering to high-quality development principles while delivering solutions on-time and on-budget.
Analyzing and resolving technical and application problems.
Providing technical leadership to teammates through coaching and mentorship.
Providing third-level support to customers.
Software Release Management.
Preparing reports, manuals and other documentation on the status, operation, and maintenance of the software.
Aufgaben Verteilung
Unsere Erwartungen an dich
Qualifikationen
Team leading ability demonstrated by ensuring that the team works co-operatively with other stakeholders, by continually reviewing objectives and priorities, and by accepting collective responsibility. Experience should include direct personnel management.
Ability to analyze customer requirements and to derive software functional requirements specifications and software requirements specifications based on the customer requirements.
Solid knowledge in data structures, algorithms and software design principles.
Experience in software architecture, solutions & best design practices, down to implementation and debugging.
Exceptional knowledge in OOP paradigms, C++(Qt preferred) and database design.
Strong background in Linux.
Experience in using source control (Git/Bitbucket) and issue tracking systems (Jira).
Ability to work in highly dynamic and fast-paced work environment.
Language: English (required), German (preferred).
Erfahrung
A Bachelor's degree in Computer Engineering, Software Engineering, Electrical Engineering, or equivalent qualification (advanced degrees are preferred). Remark: a basic knowledge in electrical engineering is required.
At least five years of experience as a software developer.
Prior experience in a technical leadership position.
Experience with software solutions for controlling industrial systems, drives, or similar.
Ausbildung
A Bachelor's degree in Computer Engineering, Software Engineering, Electrical Engineering, or equivalent qualification (advanced degrees are preferred). Remark: a basic knowledge in electrical engineering is required.
Das ist dein Arbeitgeber
EGSTON Power Electronics ist ein junges, schnell wachsendes Unternehmen in der Elektronikindustrie mit dem Fokus auf Entwicklung und Herstellung von Power Hardware-in-the-Loop (PHIL) Systemen. Leidenschaft für modernste Technologien und Perfektion in der Entwicklung innovativer Produkte, zeichnen unser internationales Team an unserem Standort in Klosterneuburg am nördlichen Stadtrand von Wien aus.
Branche
Elektronik, Automatisation
Industrie, Produktion
Gründungsjahr
2017
Unternehmensgröße
1-49 Mitarbeiter
Benefits
📱 Handy zur Privatnutzung
🎁 Mitarbeitergeschenke
👷‍♂️ Zusatzversicherung
💻 Notebook zur Privatnutzung
🚙 Poolcar
⏰ Flexible Arbeitszeiten
🏠 Home Office
🕺 No Dresscode
🅿️ Mitarbeiterparkplatz
🎳 Team Events
♿️ Barrierefreiheit
☕️ Kaffee, Tee o. Ä
Du kannst dich nicht mehr bewerben, da dieser Job nicht mehr aktiv ist.
Erfahre mehr zum DevTeam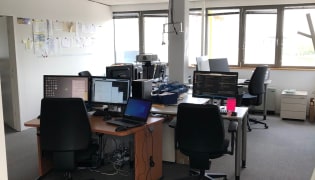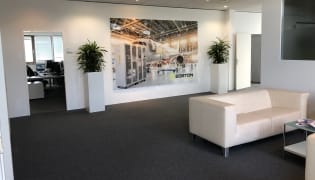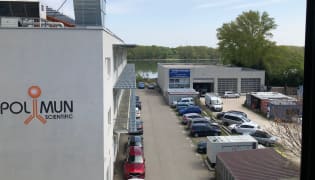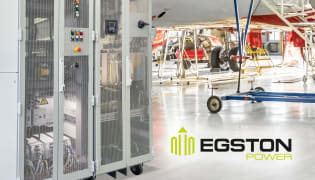 Work Environment
Separate Räume
Flexible Arbeitszeiten
Keine Kleiderordnung
Home Office
Klimaanlage
Musik am Arbeitsplatz
Stand Desk
Technology
So coden wir
Coding Kultur
Style Guide
Automatisierte Tests
Continuous Integration
Team
Unser R&D-Bereich besteht aus Software-, Firmware- und Hardware-Developern. Wir arbeiten interdisziplinär zusammen, um neue Produkte zu designen und unsere bestehenden Produkte konsequent weiterzuentwickeln. Hier fließen auch Ideen und Inputs unserer Kolleginnen und Kollegen aus dem Produktmanagement, dem Vertrieb und dem System Engineering in den Prozess mit ein. Wir zeichnen uns durch kurze, direkte Kommunikationswege und flache Hierarchien aus. Proaktives, kreatives, kunden- und lösungsorientiertes Arbeiten sowie Anpacken, dort wo es notwendig ist, sind wesentliche Erfolgsfaktoren.
Team Sprachen
Deutsch Englisch
Team Verteilung
National, Nicht Verteilt
Entwicklungsprozess
Kanban, Test Driven Development
Wir haben wöchentliche Teammeetings und zweiwöchige Sprint-Reviews. Der Projektstil hängt von der Natur des jeweiligen Projekts ab. Es wird angestrebt, immer den optimalen Prozess anzuwenden, bzw. diesen ständig zu verbessern. Regelmäßige Kommunikation und Initiative werden dabei besonders geschätzt.
Entscheidungen
Architektur
Teamleiter, Architekt, CTO
Technologie
Architekt, Team, Teamleiter, Senior Developer
Konventionen
Teamleiter, Senior Developer
Unsere Werte
Kundennutzen im Fokus
Hohe interdisziplinäre Teamorientierung
Arbeiten am technologischen Puls der Zeit
Förderndes und forderndes Umfeld
Wertschätzendes Miteinander
Spaß und Freude an der kreativen Arbeit im High-Tech-Sektor
Kollegen
Carlo D.
Embedded Developer
Warum hast du dich für dieses Team entschieden?
I was looking for new opportunities outside of Italy. The new environment, and approach convinced me to move from aerospace to Power electronics development.
Worum geht´s in deinem Job?
I am responsible for some parts of SOC/FPGA designs for our main controller device. I also design and test HIL models for different HIL devices and manufacturers for interfacing our amplifiers. I am also involved in design, implementation, and testing of the Compiso Emulator, which is the main part of our test bench for Compiso Systems.
Was gefällt dir besonders an deinem Job?
What I like most is the diversity of work packages I do. Working in different disciplines starting from FGPA design and Matlab development for HILs to HW tests, is always interesting.
Dragan D.
Senior Software Engineer
Warum hast du dich für dieses Team entschieden?
Die P-HIL Branche ist fachlich sehr interessant mit verschiedensten Technologien, die eingesetzt werden. Im R&D gibt es ein kollegiales und freundliches Umfeld.
Worum geht´s in deinem Job?
Konzipierung diverser Lösungen und Algorithmen im Bereich Leistungselektronik (MATLAB/Simulink) und Umsetzung auf verschiedenen Technologien (SW, Embedded SW, SoC, FPGA), sowie interdisziplinäre und internationale Projektkoordination. Kundensupport und technische Unterstützung bei System-Vorführungen.
Was gefällt dir besonders an deinem Job?
Kein monotoner Alltag, ein sehr dynamisches Umfeld, diverse Technologien, sehr freundliche Umgebung.
Karriere
Perspektiven
Weiterentwicklungs- und Aufstiegsmöglichkeiten sind bei uns immer gegeben. Ob Veränderung innerhalb des Aufgabenbereichs, oder der Aufstieg vom Mitarbeiter zum Teamleiter oder Lead-Developer - bei entsprechendem Engagement, ist bei uns alles möglich!
Weiterbildungsmöglichkeiten
🎓 Zeit für eigene IT bezogene Projekte
🎓 Teilnahme an Fachkonferenzen
🎓 IT-Zertifizierungen
🎓 Teilnahme an Hackathons
🎓 Teilnahme an Meetups
🎓 Zugang zu Online-Kursen
🎓 Inhouse-Trainings
🎓 Coding Dojos
🎓 Zeit um neue Technologien zu erlernen
Infos zum Bewerbungsprozess
Wie viele Runden gibt es?
3 Runden.
Wann erfährst du, ob du eingeladen wirst?
Innerhalb von zwei Wochen
Wie wird das erste Bewerbungsgespräch durchgeführt?
Videointerview oder Persönlich vor Ort
Wer ist beim ersten Bewerbungsgespräch dabei?
Fachabteilung
Wie beurteilen wir deine technischen Skills?
Direkt im Gespräch
Derzeit gesuchte Berufe
Weitere Berufe
Ansprechpartner