Technologien und Skills
Deine Rolle im Team
As a Senior PHP Developer at Moonshiner you will be responsible for the development of eCommerce solutions. You will plan, develop, implement and test features and optimize the quality and performance of high-end applications.
We use Shopware 6 – an innovative eCommerce platform – based on PHP/Symfony for all our eCommerce projects. To ensure a reliable & smooth development process, we usually work in agile SCRUM teams.
We love working and trying out new technologies but you will definitely be dealing with PHP, Twig, Docker and Cypress to name just a few.
Aufgaben Verteilung
Unsere Erwartungen an dich
Qualifikationen
At least 3 years experience in the development of PHP applications
Preferably knowledge of Docker, Kubernetes
Very good command of English and German
Erfahrung
You are into thinking about ideal processes and architectures to deliver high-end applications
You are passionate about developing applications that are maintainable & easily extendable
You are caring about a smooth development process and the code quality
Your problem-solving skills are unbeatable. You are happy tackling new challenges and solving them in straight-forward ways
You have a curious mind and you don't shy away from asking questions and expressing concerns
You are eager to learn every day and share your findings and opinion with your team
Das ist dein Arbeitgeber
Moonshiner is a development driven company which shapes the architecture and infrastructure of the biggest online shops and websites launched in Austria. We master the tough part of every web project. Through our strong technical knowledge and diverse experience, we also consult companies of all sizes throughout the whole process of their digital transformation with extensive knowledge in change management, digital strategy, UX, eCommerce, improving existing solutions but also building applications from scratch.
Branche
Internet, IT, Telekom
Gründungsjahr
2015
Unternehmensgröße
1-49 Mitarbeiter
Benefits
🎁 Mitarbeitergeschenke
💻 Notebook zur Privatnutzung
🚌 Gute Anbindung
⏸ Bildungskarenz/Auszeit
⏰ Flexible Arbeitszeiten
🏠 Home Office
🐕 Tiere willkommen
🧳 Relocation Package
🕺 No Dresscode
🎮 Gaming Room
🎳 Team Events
♿️ Barrierefreiheit
🚲 Fahrradabstellplatz
⚽️ Tischkicker o. Ä.
👨🏻‍🎓 Paten- & Mentor- Programm
🥪 Snacks, Süßigkeiten
☕️ Kaffee, Tee o. Ä
Erfahre mehr zum DevTeam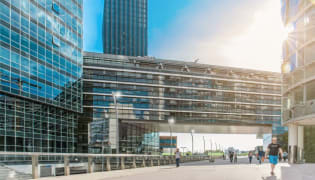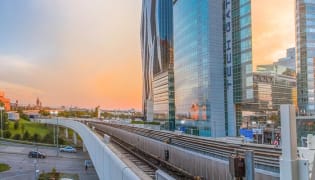 Arbeitsgerät
Laptop, Zusatz Monitor
Work Environment
Open Space
Flexible Arbeitszeiten
Keine Kleiderordnung
Home Office
Klimaanlage
Musik am Arbeitsplatz
Stand Desk
Choose your own device
Technology
So coden wir
Coding Kultur
Code Reviews
Pair Programming
Style Guide
Automatisierte Tests
Continuous Integration
Code-Metriken
Open Source Contribution
Team
Teams & Developers at MoonShiner are built up to be the experts in their fields. Together with our client's team we plan, consult & execute as a team. Depending on the project's size/setting - we use Agile Scrum Sprints or Rapid Development sessions to deliver the projects.
Currently 4 out of 7 of our teams are using SCRUM - with a dedicated Product Owner / Project Manager. In these settings - the tasks ahead are discussed, planned, estimated by the team & managed by the Product Owner.
● Product Owner
● Frontend Developers (1-2)
● Backend Developers (1-2)
● Team Lead
This setting allows developers to bring their strengths & creativity into the project & exchange knowledge with the team.
Team Sprachen
Englisch
Team Verteilung
National, Nicht Verteilt
Teamgröße
20+ Mitarbeiter
Entwicklungsprozess
Scrum, Kanban, Kaizen, Pragmatic Programming, Rapid Application Development, Scrumban
Based on our core team & development setup - SCRUM/Scrumban/Kanban - each team develops their own flavor.
Code Review, Standups & quick coding sessions are a central part of our setup.
Development sprints start with a backlog refinement and end with retrospective - trying to improve setup/tech setup.
For quick POC projects we work in Rapid Development Sessions - where we develop new products/ideas & test their core concepts & then use them as the base - when transitioning to working in the SCRUM team setup.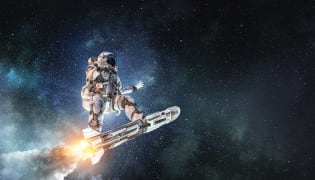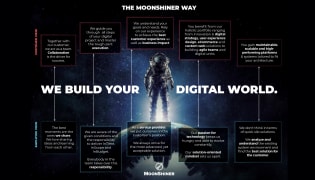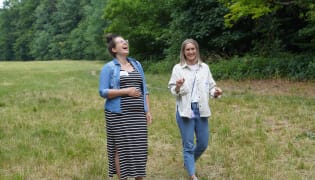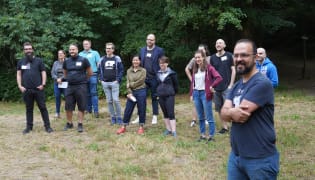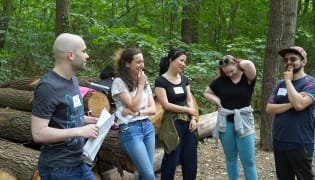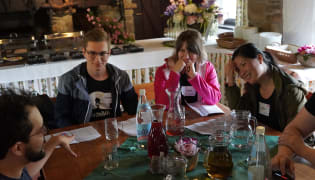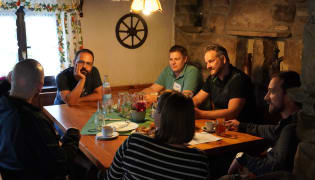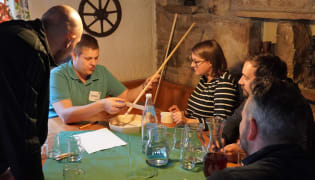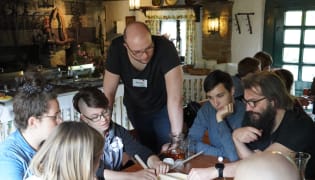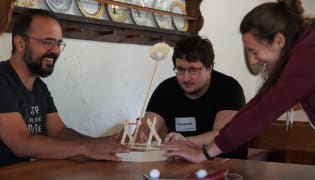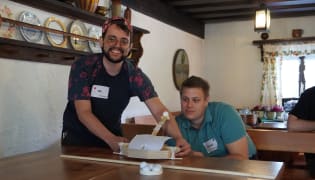 Entscheidungen
Architektur
Architekt, Senior Developer, Scrum Team
Konventionen
Scrum Team, Architekt
Unsere Werte
We use technical challenges to grow as a developer, team & organisation & always present solutions to our customers. Our solution-oriented mindset sets us apart. Ain't no mountain high enough.
We don't think in terms of quick silo & throwaway solutions - we analyze and understand the existing environment & find the best/most solid solution for our customers.
Understanding new technologies, stacks & improving our stack is one of our core propositions as a company & team
Kollegen
Xiaomin Z.
Junior Software Developer
Warum hast du dich für dieses Team entschieden?
Working with this team allows me to learn a lot of new knowledge and everyone in the team is willing to explore new areas.
Worum geht´s in deinem Job?
My job is to develop new software with the team and redesign websites.
Was gefällt dir besonders an deinem Job?
As a newbie who just entered the IT area, I can face different challenges every day and discover my potential

Ben N.
Senior Project Architect
Warum hast du dich für dieses Team entschieden?
Moonshiner hat mich vor allem mit Vielfalt und Expertise überzeugt: Diversität der Mitarbeiter und eine Vielzahl an Technologien und Anwendungsgebieten, von E-Commerce Lösungen bis hin zu Artificial Intelligence. Ein transparentes, wertschätzendes Arbeitsklima mit flacher Hierarchie führt
dazu, dass Ideen und Feedback sehr schnell ankommen und offen diskutiert werden – etwas, dass ich sehr begrüße und in früheren Positionen vermisst habe.
Worum geht´s in deinem Job?
Als Solution-Architekt ist man mit vielseitigsten Problemstellungen konfrontiert, die sich im Laufe eines Projekts anbahnen undfindet individuelle, zugeschnittene Lösungsansätze. Man erarbeitet gemeinsam mit seinem Team – im Scrum-Setting – ein Projekt Setup, das Teammitglieder fördert anstatt einschränkt. Weiters ist man technischer Ansprechpartner, wenn sich ein Problem komplexer darstellt, als gedacht und Unterstützung benötigt wird.
Was gefällt dir besonders an deinem Job?
Ein wertschätzendes und vor allem auch hilfsbereites Team mit gebündeltem Wissen aus verschiedensten Fachgebieten gepaart mit einer "Getting Things Done"-Mentalität. Wir kommen sehr schnell, sehr weit und scheuen keine Herausforderungen. Diese Herangehensweise genieße ich persönlich sehr, denn in so einem Umfeld lernt man ständig Neues und entwickelt sich weiter.
Karriere
Perspektiven
As an employee/developer @moonshiner growing as a person & developer is part of our DNA. Whether you want to:
● become an expert in a technology - such as Symfony, Design Systems, AI, DevOps
● become a Project Lead
● get into Frontend/Backend/System Architecture
● be a central part for our communication/success with our customers
We're open and encourage your personal development.
Weiterbildungsmöglichkeiten
🎓 Teilnahme an Fachkonferenzen
🎓 IT-Zertifizierungen
🎓 Teilnahme an Hackathons
🎓 Zugang zu Online-Kursen
🎓 Inhouse-Trainings
🎓 Eigene Fachbibliothek
🎓 Zeit um neue Technologien zu erlernen
Infos zum Bewerbungsprozess
Wie viele Runden gibt es?
2 Runden
Wann erfährst du, ob du eingeladen wirst?
Innerhalb von zwei Wochen
Wie wird das erste Bewerbungsgespräch durchgeführt?
Videointerview
Wer ist beim ersten Bewerbungsgespräch dabei?
HR-Abteilung, Geschäftsführung
Wie beurteilen wir deine technischen Skills?
Fachliche Arbeitsaufgabe, Direkt im Gespräch
Derzeit gesuchte Berufe
Weitere Berufe
Ansprechpartner